New eMobility Balancing Machine is Geared Towards Cycle Times of 40 to 100 Seconds
Press Release Summary: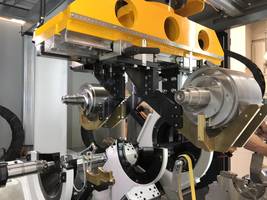 The eTeno eMobility balancing machine provides automatic balancing and correction of electric armatures with weights up to 50 kg. It comes with internal handling system that helps in workpiece changes with low short cycle times. Unit's electrical and mechanical design meets DIN/EN/ISO/UL standards.
---
Original Press Release:
New eMobility Balancing Machine Makes Its World Debut at IMTS 2018
Schenck announces the addition of the eTENO to its line of balancing machines. This new, efficient eMobility machine is one of the world's first automatic two-station balancing systems for eDrive production.
The eMobility market is growing... Increased range, improved performance and stricter environmental requirements have significantly increased consumer acceptance and demand. E-mobility product line manager Peter Böhm of Schenck RoTec knows that this also applies to the integration of balancing technology with the development and production environments of e-mobility players: "In almost all discussions we currently have with OEMs and suppliers the desire for an efficient as well as flexible automation solution for balancing e-drives is at the very top of the list." Consumers are striving to optimize flexibility, process performance, and automation. For rotor balancing, in particular, it is essential that electric drives operate free of vibration in both the prototype and production stages to maximize the service life of the product. 
Our eTENO was thus designed to meet the needs of the eMobility market. Currently the only balancing system with this unique combination of functions and features, it is specifically geared for use in present and future e-drive production of suppliers and OEMs.
Böhm emphasized that, "with the new eTENO, both electric motor manufacturers as well as automotive manufacturers are getting a completely equipped automation solution that delivers highly precise measurement results. It can also be integrated in a flexible manner into development and production settings, and supports the implementation of highly efficient processes".
The two-station machine offers fully automatic balancing and correction of complete electric armatures (rotor, shaft, cage, etc.) with weights of up to 50kg. Thanks to its modular design and a whole host of different support bearing and balancing types, the eTENO offers maximum flexibility, and features an internal handling system for workpiece changes with short cycles. Its machine design is geared towards short cycle times of 40 to 100 seconds, and its mechanical and electrical design meets all internationally relevant DIN/EN/ISO/UL standards.
Like all balancing machines from Schenck, the new eTENO is also integrated into the comprehensive service and support system that the company uses to ensure the high availability of its systems. In addition to test routines, plausibility checks, and a practically oriented help system, it also offers an online remote diagnosis with teleservice.
For a live demo of the new eTENO, please visit us at Booth #135246 on the 3rd level of the East Building. For more information about this and other SCHENCK balancing products and services, please visit www.schenckusa.com or email Tarek El-Sawaf at sales@schenck-usa.com. 
Contact
SCHENCK Trebel Corporation
Tarek El-Sawaf
Director, Business Development
535 Acorn Street
Deer Park, NY 11729 USA
Phone +1 631 242 4010 Ext. 350
sales@schenck-usa.com
www.schenck-usa.com
More from Software