New Emergency Wireless Speaker is IPX5 Rated Water Resistant
Press Release Summary: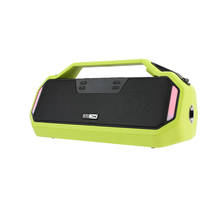 Features long-lasting rechargeable battery, solar and hand crank recharging
Offers NOAA & S.A.M.E weather alerts
Comes with built-in LED lights and is ideal for emergency preparedness, camping, beach and everyday use
---
Original Press Release:
Altec Lansing Expands Everything Proof Speaker Line with New Launch of StormChaser Emergency Wireless Speaker
Stay safe, informed and entertained no matter what comes your way
EDISON, N.J. (PRWEB) NOVEMBER 18, 2020 - Altec Lansing, innovator of audio, announced today the introduction of its newest addition to the Everything Proof Speaker Line, the StormChaser Emergency Wireless Speaker. The StormChaser embodies the desired specs one looks for in a portable Bluetooth speaker combined with the functionality one would expect in an emergency weather radio from weather alerts to safety features.
The StormChaser Emergency Wireless Speaker features a long-lasting rechargeable battery, solar and hand crank recharging, IPX5 water resistance and USB smartphone charging port. In addition to its AM/FM radio, the unit receives NOAA weather radio channels and S.A.M.E local alerts to keep users informed of extreme weather conditions.
Besides its valuable weather emergency and safety features, StormChaser also provides great audio music with Bluetooth streaming capabilities. The StormChaser boasts a sleek design features optimized for portability to bring in any life situation.
"With how unpredictable the weather can be from day to day, it was a no-brainer combining great-sounding audio with useful, life-saving safety and emergency features into one," said Joseph Campos, VP of Sales and Marketing at Altec Lansing. "Having the ability to charge your phone during a power outage or change a tire on the side of the road at night with the LED area panel provides peace of mind. Water-resistant and versatile, the StormChaser is an essential for every day."
StormChaser Emergency Wireless Speaker – IMT7012 – (MSRP: $129.99):
IPX5 Water Resistant
Up to 10 hours of battery per charge
NOAA & S.A.M.E Weather Alerts: alerts sound with issued on local channels
Multiple Sustainable Power Sources: solar, hand-crank, rechargeable battery
AM/FM/Bluetooth Music Streaming
USB Smartphone Charge
Built-in LED Lights: flashlight, emergency lights, area panel light bring assistance in distress
Built-in Bottle Opener
Ideal for: Emergency preparedness, camping, beach and everyday use
The StormChaser Emergency Wireless Speaker is now available at Walmart stores nationwide. For more information on products from Altec Lansing, visit http://www.alteclansing.com
About Altec Lansing
Since 1927, generations of music enthusiasts have recognized Altec Lansing as a premier brand that consistently delivers high quality and rich sound in a host of audio products including; headphones, earphones, everything-proof speakers, home and car audio, DJ speakers, turntables, mobile accessories, and more. Altec Lansing provides a seamless combination of beautiful design aesthetics and terrific sound to exceed every audiophile's expectations. Those who know audio, know Altec Lansing. http://www.alteclansing.com l @alteclansingofficial
For more information, please contact:
Susanne McDaniels, Brand Manager of Altec Lansing
smcdaniels@sakar.com / O: 732-248-1306ext326
Related