Pressure Sensors / Detectors / Transducers
New ELV Series Sensors with Ultra-Low-Pressure CoBeam2 Technology
Press Release Summary: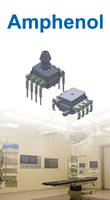 Ultra-low-pressure sensing reduces package stress susceptibility
Provides accurate and stable output over a wide temperature range
Suitable for non-corrosive, non-ionic working fluids such as air and dry gases
---
Original Press Release:
All Sensor Low-Pressure Digital and Analog Pressure Sensors Available from TTI
Fort Worth, Texas – May 20, 2021 – TTI, Inc., a leading specialty distributor of electronic components, is offering Amphenol's All Sensors' ELV series Digital and Analog Pressure Sensors. This product family consists of four new product lines based on All Sensors' ultra-low-pressure CoBeam2™ technology. This innovative sensing element technology provides pressure sensors with best-in-class, ultra-low-pressure sensing which reduces package stress susceptibility, resulting in improved overall long-term stability and vastly improved position sensitivity.
The digital interface eases integration of the sensors into a wide range of process control and measurement systems, allowing direct connection to serial communications channels. For battery-powered systems, the sensors can enter very low-power mode between readings to minimize load on the power supply.
These calibrated and compensated sensors provide accurate, stable output over a wide temperature range. This series is intended for use with non-corrosive, non-ionic working fluids such as air, dry gases. A protective parylene coating is optionally available for moisture/harsh media protection for pressure ranges starting at ±10 in H2O (±25 mbar) and above.
To learn more, visit Amphenol ELV Series Pressure Sensors at TTI.
About TTI
TTI, Inc., a Berkshire Hathaway company, is an authorized, specialty distributor of electronic components. Founded in 1971, the emphasis on a broad and deep product portfolio, available-to-sell inventory and sophisticated supply chain programs has established TTI as a distributor of choice to manufacturers in the industrial, defense, aerospace, transportation, medical and communications sectors worldwide. TTI and its wholly owned subsidiaries, the TTI Family of Specialists, Mouser Electronics, Sager Electronics and TTI Semiconductor Group employ over 7,300 people in more than 136 locations throughout North America, South America, Europe, Asia and Africa. Globally, the company maintains over 3 million square feet of dedicated warehouse space in 30 distribution centers, housing over 850,000 component part numbers. For more information about TTI, visit www.tti.com
About All Sensors Corporation
All Sensors Corporation is an industry leader in the design and manufacturing of ultra-low pressure sensors. All Sensors' product line is notable for its high accuracy and repeatability. The sensors are particularly suited for low and ultra-low pressure applications for flow measurement and control. Pressure ranges are available as low as 0.25 inH2O and as high as 150 PSI.
Contact This Company Download Spec Sheet
More from Construction Equipment and Supplies