New Electronic Ballasts Optimize Performance and Extend UV-C Bulb Life
Press Release Summary: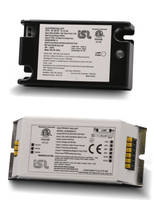 The new series of electronic ballasts from ISL Products International, Ltd. offer extended UV-C bulb life and optimized performance. Designed for food, air, water, and healthcare applications, the ballasts meet any UV-C lamp OEM requirements and are available with push-in terminals or integrated bulb-specific sockets. Ballasts also feature logic-controlled "soft start" technology to maintain the life of the bulbs.
---
Original Press Release:
ISL's Application-Specific Electronic Ballasts Enhance Performance and Extend the Life of UV-C Germicidal Bulbs
Syosset, NY, May 2, 2018…Announced today by ISL Products International Ltd., a global leader in value-added manufacturing and engineering services for electronic/electromechanical components, are high-efficiency electronic ballasts designed for a broad spectrum of food, air, water and healthcare applications requiring ultraviolet germicidal irradiation (UVGI). The programmed start ballasts optimize performance and extend the UV-C bulb life, which deactivates the DNA of bacteria, viruses, and other pathogens to destroy their ability to multiply and cause disease.  These application-specific ballasts meet any UV-C lamp OEMs' requirements including, bulb type, case style, input volts/input amps, wattage, number of lamps operated, power factor/efficiency, ballast factor and environmental protection.  They are available with either push-in terminals or an integrated bulb-specific socket.  Ballasts are independently tested with customers' bulbs to comply with all relevant safety standards, including UL and cUL.
ISL's programmed start ballasts feature a logic-controlled "soft start" technology which minimizes "sputter" and facilitates high-cycling applications without degrading the life of the bulb.   ISL also manufactures rapid start ballasts for applications with less frequent start-ups.
High-efficiency electronic ballasts are necessary for UV lamps employed in an array of commercial, industrial, and healthcare environments. Germicidal UV-C is used by the food industry to prolong shelf life, preserve nutritional value, and to sterilize pathogens.  Hospitals and scientific labs require germicidal UV-C to sterilize equipment and the air in operating rooms. HVAC systems utilize it to sterilize pathogens that cause illness and contaminants that aggravate respiratory ailments.  UV-C is also used to cure or dry inks, varnishes, and coating, as well as for hygiene and infection control, and disinfection for viruses and bacteria.   Germicidal UV-C is further appropriate for water purification in water reclamation, waste water, drinking water, industrial and process water.
Pricing for ISL's high-efficiency electronic ballast is determined based on customers' specifications. Minimum quantities range from 1K to 3K; delivery is 8 to 9 weeks.
To learn more about ISL's high-efficiency electronic ballasts for UV-C germicidal lamps, call (888) 904-9054, submit an inquiry directly to an ISL sales engineer, email info@islproducts.com, or contact an ISL sales representative.  
About ISL Products Ltd
ISL Products Limited is a global leader in value-added engineering and manufacturing services for electronic and electromechanical components.  The company additionally offers a comprehensive portfolio of supply chain and logistics management services.  For over 40 years, design engineers and OEM's have relied on ISL's world-wide engineering sales and support network to deliver innovative and cost-effective solutions to help accelerate time-to-market.  ISL's products and services are widely employed in audio/visual, healthcare, security, industrial machinery, robotics, and food service equipment.  Products include audio components, motor and mechanical components, ballasts and power supplies, potentiometers/transformers, cable assemblies and connectors.  The company maintains a network of US sales representatives, and is headquartered in Syosset, NY. 
Related