New EL-GFX-D2 Temperature /Humidity/Dewpoint Data Logger Allows Setting of Logging Rates
Press Release Summary: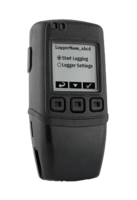 Measures and stores over 250,000 temperature and humidity readings per channel in -30 to +80ºC temperature range
Suitable for critical applications in cold chain storage, medical monitoring of vaccines and products
Uses a standard probe that delivers an accuracy of ± 0.3 ºC and ± 2.05% RH
---
Original Press Release:
New Dual Channel Temp & Humidity Data Logger with Graphic Screen
Stores over 250,000 Temp readings
CAS DataLoggers has partnered with Lascar to release a new dual-channel version of its GFX-2 standalone datalogger. The new EL-GFX-D2 Temperature /Humidity/Dewpoint data logger has a graphic LCD showing real-time readings, graphs and current status. Setup and operation couldn't be easier, and the micro USB interface enables quick set-up and data download. This portable solution is perfect for critical applications in cold chain storage, medical monitoring of vaccines and products, and many other uses. Available immediately from CAS DataLoggers at an affordable price, these new loggers are ideal for keeping tabs on your data in the field.
The EL-GFX-D2 standalone USB data logger is supplied with one sensor but offers the ability to accept 2 sensors. It can measure and store over 250,000 temperature and humidity readings per channel over a -30 to +80ºC (-22 to 176°F) and 0 to 100% RH range at a resolution of 0.1ºC (0.1°F) and 0.1%RH. The standard probe provides an accuracy of ± 0.3 ºC and ± 2.05% RH. An optional high accuracy probe provides of ± 0.2 ºC and ± 1.8% RH. The EL-FGFX-D2 can also provide dew point with a typical accuracy of 1.1ºC. The probes are equipped with a 2 meter cable to allow easy placement in the location to be monitored. Users can set logging rates to take a reading anywhere between 10 seconds and 1 hour. The data logger is supplied with 2 replaceable ½AA lithium batteries, a USB cover, Mounting Clip, and a Micro USB cable.
Using the built in LCD display of GFX-D2 data and three buttons users can easily navigate through an onscreen menu. This menu gives users access to real-time trend analysis, data summaries (showing highest and lowest readings and alarm conditions) or as a graph that updates as new data is added. Users also have the ability to start, stop and restart the data logger in the field without the need to connect to a PC. Multiple data logging sessions can be stored on the device ready for upload to a PC at a later date.
Free Setup & Control Software
Lascar's popular Easylog USB control software is easy to install and use, running under Windows 7/8/10. EasyLog is used to setup the data logger as well as download, graph and export data to Excel and other applications. Each stored logging session is saved as a separate file. Users can also reset the max/min reading using the on-screen menu: this introduces an 'event marker' into the data which can later be viewed in the graphing software and the data file after download. The software is free to download.
The software allows users to configure:
Logger name
Choice of temperature units
Logging Rate
High and low temperature alarms
Immediate, delayed, push-button or temperature/humidity triggered start mode
Disable or enable highly-visible LEDs and audible alarms with delayed activation
Display and backlight behavior after button press
The EasyLog software also enables users to download all stored data which can then be graphed, printed and exported to other applications.
Applications:
Cold chain storage
Medical monitoring
Vaccines and products
For more information on the Lascar EL-GFX-D2 Temp, Humidity and Dewpoint Data Logger, vor to find the ideal solution for your application-specific needs, contact a CAS Data Logger Applications Specialist at (800) 956-4437 or visit our website at www.DataLoggerInc.com.
Contact This Company Download Spec Sheet
More from Software