New EcoVue Ultrasound Gel is Produced from 99 Percent Naturally Fermented Ingredients
Press Release Summary: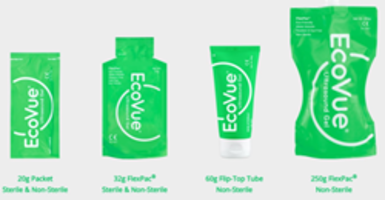 EcoVue Ultrasound Gel is designed for practitioners and medical facilities. The gel maintains its acoustic velocity when heated up to a temperature of 40°C. The product is offered in EcoVue FlexPac® patented packaging system that reduces the overall weight by 60%.
---
Original Press Release:
HR Pharmaceuticals Presents EcoVue® - The Latest In Ultrasound Gel
HR Pharmaceuticals is proud to introduce EcoVue, the latest in ultrasound gel. This environmentally friendly gel will make a significant difference in medical practices everywhere.
YORK, PA. (PRWEB) JULY 02, 2018
HR Pharmaceuticals, a top manufacturer of surgical lubricants, ultrasound gels, and other premium quality consumables is proud to announce the launch of their latest product, EcoVue, an environmentally friendly ultrasound gel that can be used by practitioners and medical facilities everywhere.
HR Pharmaceuticals has spent the last four years developing what they consider to be the most revolutionary ultrasound gel on the market. Unlike other ultrasound gels, EcoVue® maintains its acoustic velocity at a constant level when heated, even to temperatures of 40°C. This gel feels thinner, spreads more evenly, and does not lose its efficacy over time.
HR Pharmaceuticals prides itself on being a sustainable company, focused on helping the environment in everything they do. These values are an important part of the foundation of their latest product. EcoVue® itself is produced from 99 percent naturally fermented ingredients, which lessens their environmental impact. Additionally, EcoVue® is safe, efficient, and contains no parabens or Propylene Glycol (PG), two substances that can have negative effects on the body. On top of all this, EcoVue® lives up to its eco-friendly name by reducing landfill waste.
But the sustainable measures that HR Pharmaceuticals has taken with EcoVue® does not stop there. They have created and patented a packaging system called the EcoVue FlexPac®, which provides an innovative solution for both the container of the ultrasound gel, as well as for how the product is shipped. The overall weight is reduced by over 60 percent, thanks to the innovative flexible packaging. This results in being able to ship more EcoVue® products at once, while simultaneously requiring fewer trips and less of a carbon footprint that comes from transportation.
Designated as "Innovative Technology" by Vizient in 2017, soaring above and beyond FDA recommendations, EcoVue® is the ultrasound gel that every medical practice not only needs, but deserves. By choosing EcoVue®, medical practitioners and patients alike are getting the best product on the market, while contributing to the power of environmentally friendly and sustainable practices. Visit the brand new website at https://www.ecovue.com to learn more, and see why now is the time to Change Your Vue™.
About HR Pharmaceuticals 
With a history of trademarking surgical lubricants dating all the way back to 1932, HR Pharmaceuticals has grown to become the most trusted and renowned names in the field of medicine. Throughout the decades, HR Pharmaceuticals has continued to develop and hone their products, with the goal of setting Ecovue® as the new standard in ultrasound gel. This tradition of providing the best in medical products, surgical lubricant, and ultrasound gel remains a commitment today.
Contact Information
Farra Larimore
EcoVue®
http://https://www.ecovue.com
+1 970-541-3284
More from Fluid & Gas Flow Equipment