New DuraCase from Socket Mobile For Apple iPhones
Press Release Summary: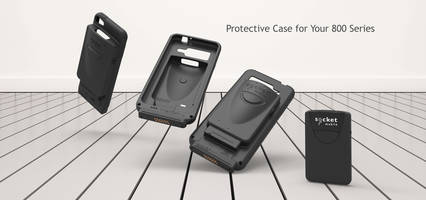 Socket Mobile's new DuraCase is able to support Apple mobile phones including iPhone and iPhone Plus.  The case features a one-handed protective sled that is also able to handle Socket Mobile 800 series barcode scanner.  
---
Original Press Release:
Socket Mobile Launches DuraCase for Apple® iPhones and DuraScan D790
NEWARK, Calif., January 14, 2019 – Socket Mobile, Inc. (NASDAQ: SCKT), a leading innovator of data capture and delivery solutions for enhanced productivity, is announcing the expansion of the DuraCase product line to support Apple's iPhone and iPhone Plus mobile phones. The DuraCase is a one-handed, protective sled for both the mobile phone and attached 800 Series barcode scanning solution.
The DuraCase sled attaches the Apple iPhone® 6, 7 or 8 and any one of the Socket Mobile 800 Series 1D or 2D scanners, creating a one-handed solution for superior productivity. The sled protects from common drops or bumps without blocking the screen. The DuraCase with scanner is extremely portable and lightweight, it is easily carried through a retail or warehouse environment for long hours. It is also ideal for field service businesses since it can easily go on the road with service workers.
DuraCase is designed to charge both the attachable barcode scanner and Apple's iPhone in a single-charging design. For larger deployments, the 6 Multi-Bay Charger charges up to 6 DuraCase solutions at once.
In addition, Socket Mobile is also announcing the release of the DuraScan D790 – a high-end barcode scanner that reads DPM (Direct Part Marking) code while maintaining the same durability and color selection as the rest of the DuraScan series.
The D790 is designed to read DPM codes - codes intended to last as long as the object or instrument marked with the code- regardless of size, surface, contrast or density. The D790 also supports the more common 1D, stacked, 2D and postal codes. The D790 scanner provides effortless, optimal scanning performance, with omnidirectional reading for intuitive barcode capture.
As an extension of the DuraScan series, the D790 is a rugged barcode scanner that withstands water, dust, and other hazards, in an ergonomic shape for extended use. The D790 is as tough as the DPM codes it scans.
"We are delighted to introduce such durable barcode scanners and cases that will fulfill the needs of our customers for a long time. Socket Mobile strives to meet the varying needs of users, and the addition of these two products are another step closer in fulfilling those needs,"said  James Lopez, Vice President of Marketing.
Both the DuraCase for iPhone and the DuraScan D790 are available for pre-order now and will ship before the end of the quarter.
D790: MSRP $999.00
DuraCase with Charging Dock MSRP $179.00
At NRF 2019, our partner, TeamWork Retail, will be showing the DuraCase for iPhone at booth #1025.
About Socket Mobile
Founded in 1992, Socket Mobile is a leading innovator of data capture and delivery solutions for enhanced productivity in retail point of sale, field service, transportation, manufacturing and other mobile markets. Socket Mobile's revenue is primarily driven by the deployment of third party barcode enabled mobile applications that integrate Socket Mobile's cordless barcode scanners. Socket Mobile has a robust network of thousands of developers registered to use its software developer's kit to add sophisticated barcode scanning to mobile applications. Socket Mobile is headquartered in Newark, Calif. and can be reached at +1-510-933-3000 or www.socketmobile.com. Follow Socket Mobile on Facebook and Twitter @socketmobile and subscribe to SocketTalk, the company's official blog.
More from Electronic Components & Devices