New DTK-DF120S1 Surge Protector Designed to Minimize Damage from AC Supply Voltage Spikes
Press Release Summary: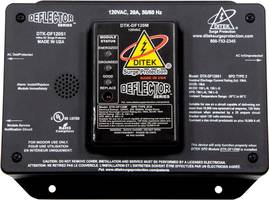 Provides notification via dry contacts, which alert central station monitoring that the module needs replacing
Sounds a loud audible alarm and an LED flashes when unit absorbs power surge and stops functioning
120-volt circuit protection device is UL 1449 and UL 1283 listed
---
Original Press Release:
DITEK to Showcase Deflector Series Surge Protection Device at ISC West 2019
Modular Surge Protector Removes the Guesswork
Las Vegas (April 10, 2019) – DITEK, a leading provider of surge protection solutions, is showcasing its Deflector Series Surge Protective Devices this week at ISC West 2019 (booth #6117). The Deflector surge protector notifies the user three ways when it's time for servicing, setting a new standard for surge protection. Unique rapid-replacement modules make it possible to have the unit up and running again in only a few seconds.
"Power surges are inevitable, and surge protection devices are a solid way to protect your valuable equipment," said Jason Klein, National Sales Manager, DITEK. "With the Deflector Series, you'll always know when the surge protection on your critical devices and systems requires immediate attention."
The DTK-DF120S1 Deflector Series Surge Protector is a 120-volt dedicated circuit protection device designed to minimize damage from AC supply voltage spikes by isolating incoming surges that originate from lightning strikes and other sources.
When the Deflector does its job by absorbing a power surge and stops functioning, the unit sounds a loud audible alarm and an LED flashes, indicating that the module needs to be replaced. Intelligent notification is also available via dry contacts, which can be connected to alarm panels to alert central station monitoring that the module needs replacing.
The Deflector is conveniently wall-mountable, and simple for a licensed electrician to install. No additional enclosure is required, allowing it to be placed in close proximity to core systems or devices that warrant the highest levels of protection.
The Deflector Series is UL 1449 listed as a Surge Protective Device (SPD), as well as UL 1283 listed for EMI/RFI noise filtering.
For more information, please visit us at ISC West booth #6117, contact us at 800- 753-2345, or visit online at www.diteksurgeprotection.com
About DITEK
DITEK is the quality standard in surge protection and UPS solutions for the commercial and industrial market. A pioneer in the industry, for over 30 years DITEK has designed and manufactured reliable, durable products in the USA, all backed by a comprehensive warranty. DITEK's primary objective is to prevent the escalation of problems that comes with an equipment malfunction due to a surge, spike or loss of power, keeping vital business systems up and running at all times.
Editorial Contact:
Sara Chaput /LRG Marketing
845-358-1801
schaput@lrgmarketing.com
Related