New DDP/MDP1200 Power Supplies Support PMBus Communication Protocols
Press Release Summary: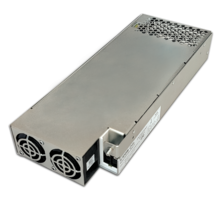 Effore's DDP/MDP1200 Power Supplies are offered with dual built in fan variants in open U-chassis and closed perforated cover packages. Units are operated with universal input voltage ranging from 85 to 305 VAC. The power supplies come with active PFC, low earth/touch leakage current, +12V 0.5A and +5V 1A stand-by outputs. The medical grade power supplies are suitable for CT Scanners, MRI systems, Patient Monitoring Systems and surgery table/dental units.
---
Original Press Release:
EFORE's New 1200W Power Supplies Offer Scalability and Digital Control
The DDP/MDP1200 Power Supply Series is Parallelable with Built-in DSP and supports PMBus™ Communication Protocols
Espoo, Finland – June 13, 2018 - EFORE Plc, an international company which designs and manufactures custom and standard AC/DC Power Supplies, LED Drivers and DC and AC Power Systems, delivers increased scalability and Digital Communications capabilities in the new DDP/MDP1200 series of High Efficiency power supplies that offer increased energy savings in high power demand system applications.
The series is suitable for worldwide deployment with a universal input voltage range of 85 – 305 VAC. It is currently available as a single 24VDC output, with 48VDC in a prototyping stage.
The series is currently available in three different packages. The enclosed dual built in fan variant, which provides 1200W of rated power from 180 VAC and above, and 1000W below 180VAC up to 60°C regardless of orientation, eases integration into power demanding systems. The fan rotation speed is digitally controlled to guarantee the minimum required airflow, minimizing audible noise for quiet operation, important in clean room and medical applications. The open U-chassis and closed perforated cover packages have been designed to optimize cooling from an external forced air flow source and provide a more compact form factor.
The DDP/MDP1200 power supply series is parallelable for redundant and/or higher power applications, facilitated by the internal OR-ing and current share functions.
The built in DSP supports the flexible and highly versatile PMBus™ open standard power management protocol which allows communications and data logging between power supply and system. This feature provides interoperability, highly desirable in high end Industrial and Test & Measurement applications.
Other features include Active PFC, low earth/touch leakage current, +12V 0.5A and +5V 1A stand-by outputs, and 5000m altitude operation. The Active PFC when combined with the units UL8750 certification makes it a reliable choice for LED lighting systems.
Approved to the latest IEC/EN/UL 60950-1 safety standards for industrial and IT applications, UL8750 for LED lighting, and IEC 60601-1 3rd edition for Medical applications, including 2xMoPP, BF compatibility and IEC 60601-1-2 4th edition EMC compliance, a strict requirement by the latest medical standards for immunity. These medical safety standards ease medical equipment integration, eliminating the need for an additional isolation barrier.
The medical grade models are suitable for use in Medical CT Scanners, MRI systems, Patient Monitoring Systems and surgery table / dental units. The IT grade models are well suited for IT / Industrial applications such as Test & Measurement, 3D printing, CAD/CAM milling machines, LASER cutting and engraving machines, Automation & Control systems and LED Lighting applications.
EFORE offers a complete portfolio of highly reliable Power Supplies, Power Systems and LED Drivers, providing our customers with a unique opportunity to satisfy all of their power conversion needs from a single source. We provide state of the art technology combining high efficiency and digital communications, standard off-the-shelf and quick-turn configurable solutions, competitive pricing and, most importantly, personal service.
About Efore Group
Efore Group is an international company which develops and produces demanding power products. Efore's head office is based in Finland and its R&D functions are located in Finland, Sweden, Italy and China. Sales and marketing operations are located in Europe, United States and China. The company's shares are quoted on the NASDAQ Helsinki Ltd. www.efore.com.
More from HVAC