DC to DC Power Supplies (Converters)
New DC-DC Converters with Output Current Rated at 12 A
Press Release Summary: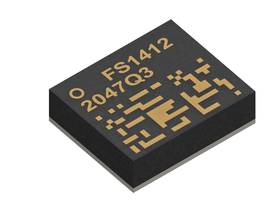 Footprint of 5.8 x 4.9 x 1.6 mm
Scalable and highly configurable with multi-time programmable memory
Applications include big data, machine learning, artificial intelligence (AI), 5G cells, IoT networking, telecommunication and computing enterprise
---
Original Press Release:
TDK Announces New Ultra-Low Profile µPOL™ DC-DC Converters
Advanced ultra-low profile packaging and 3D technology are key drivers for next-generation high performance energy efficient designs
High-density solution for space-constrained applications requiring a low-profile power source
Scalable and highly configurable with multi-time programmable memory, offering a wide range of flexibility using Digital Communication (I2C and PMBUS)
Premiering at APEC 2022 in Houston, TX, March 20-24, TDK booth #814
March 17, 2022 -- TDK Corporation (TSE:6762) announces the availability of FS1412 microPOL (μPOL™) power module. At 5.8 mm x 4.9 mm x 1.6 mm, the FS1412 is part of a new series of µPOL™ DC-DC converters with increased performance, smallest available size, ease of use, and simplified integration for applications such as big data, machine learning, artificial intelligence (AI), 5G cells, IoT networking, telecommunication, and computing enterprise. μPOL technology includes a DC-DC converter placed in the vicinity of complex chipsets such as ASICs, FPGAs, and others. By minimizing the distance between the converter and the chipset, the resistance and the inductance components are minimized, allowing fast response and accurate regulation with dynamic load currents. Mass production of FS1412 started in Q4 2021.
TDK has been developing this technology over several years to enable system level solutions to enhance electrical and thermal performance focusing on high-density cost-effective solutions for space-constrained applications which require a low-profile power source. These new solutions incorporate high-performance semiconductors in advanced packaging technologies such as semiconductor embedded in substrate (SESUB) and advanced electronic components to achieve unique system integration in a smaller size and lower profile by 3D integration. This integration allows TDK to deliver higher efficiency and ease of use at a lower total system cost to what is currently available today.
The new µPOL DC-DC converters series operates at a broad junction temperature range, from -40 °C to 125 °C and features a high current density of more than 1000 A per cubic inch. The series delivers at 12 A with the lowest commercially available height at 1.6 mm, while offering 50% less solution size than the other products available in its class. As a result, this minimizes system solution cost, reduces board size and assembly costs, as well as BOM and PCB costs.
TDK will be showcasing its µPOL technology and full line-up of compact power solutions at the APEC 2022 event from March 20-24, George R. Brown Convention Center in Houston, TX, USA at booth #814.
Glossary
μPOL and nPOL are integrated DC-DC converters placed in the vicinity of complex ICs such as ASICs, FPGAs, and others​
Main Applications
Network Storage: Enterprise SSD / Storage Area Network
Servers: Mainstream Server, Rack and Blade Server, Micro Server
Netcoms and Telecoms: Ethernet Switch and Router and 5G Small Cells and 5G Base Stations​
Main Features and Benefits
Footprint of 5.8 x 4.9 x 1.6 mm
Output current rated at 12 A, with 50% less required capacitance than existing products
Suitable for a junction temperature range from -40 °C to 125 °C
Lead free and RoHS/WEEE compliant
Key Data
Type: FS1412
Dimensions [mm]: 5.8 x 4.9 x 1.6
Rated current [A]: 12
About TDK Corporation
TDK Corporation is a world leader in electronic solutions for the smart society based in Tokyo, Japan. Built on a foundation of material sciences mastery, TDK welcomes societal transformation by resolutely remaining at the forefront of technological evolution and deliberately "Attracting Tomorrow." It was established in 1935 to commercialize ferrite, a key material in electronic and magnetic products. TDK's comprehensive, innovation-driven portfolio features passive components such as ceramic, aluminum electrolytic and film capacitors, as well as magnetics, high-frequency, and piezo and protection devices. The product spectrum also includes sensors and sensor systems such as temperature and pressure, magnetic, and MEMS sensors. In addition, TDK provides power supplies and energy devices, magnetic heads and more. These products are marketed under the product brands TDK, EPCOS, InvenSense, Micronas, Tronics and TDK-Lambda. TDK focuses on demanding markets in automotive, industrial and consumer electronics, and information and communication technology. The company has a network of design and manufacturing locations and sales offices in Asia, Europe, and in North and South America. In fiscal 2021, TDK posted total sales of USD 13.3 billion and employed about 129,000 people worldwide.
Contacts For Regional Media:
Japan
Mr. Yoichi OSUGA
TDK Corporation
Tokyo, Japan
+813 6778-1055
pr@jp.tdk.com
ASEAN
Ms. Jiang MAN
Ms. Pei Lu LEE
TDK Singapore (Pte) Ltd. Singapore
+65 6273 5022
asean.inquiry@sg.tdk.com
Greater China
Ms. Clover XU
TDK China Co., Ltd
Shanghai, China
+86 21 61962319
pr@cn.tdk.com
Europe
Mr. Frank TRAMPNAU
TDK Management Services GmbH
Duesseldorf, Germany
+49 211 9077 127
frank.trampnau@.tdk.com
America
Mr. David A.
ALMOSLINO
TDK USA
San Jose, CA
+1-408-478-5799
david.almoslino@tdk.com
America
Ms. Sarah MACKENZIE
Publitek
Portland, OR
+1-503-720-3743
TDK-US@publitek.com
Contact This Company Download Spec Sheet
More from Electronic Components & Devices