DC to DC Power Supplies (Converters)
New DBM20 Power Supplies with Output Remote On/Off Function
Press Release Summary: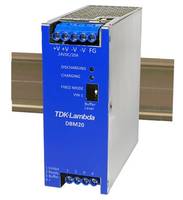 Features 250ms additional hold-up time at 448W to avoid data loss
Provides power when input voltage drops to 22.4V (fixed mode) and when decreases by 1V (variable mode)
Utilizes electrolytic capacitors to store energy
---
Original Press Release:
Narrow Width 24V 20A DIN Rail Buffer Module has Inhibit Function for Safe Operation
TDK Corporation (TSE 6762) announces the introduction of the TDK-Lambda brand DBM20 24V 20A rated DIN rail buffer module. The narrow 49mm width saves space on the DIN rail allowing additional modules and functionality to be fitted. A remote on/off inhibit function avoids the unsafe discharge of stored energy during system maintenance and servicing. The DBM20 provides an extended 250ms hold-up time to power supplies preventing data loss during brief power interruptions or allowing equipment to safely shutdown. Applications include industrial automation, robotics and semiconductor fabrication equipment.
To remove the need for servicing and maintenance of batteries, energy is stored in electrolytic capacitors. Charge and discharge status can be monitored local or remotely via a DC OK relay, LED indicators and photo-coupled signals. To obtain longer buffer times, the DBM20 modules can be connected in parallel. A front panel switch can be used to select either fixed or variable voltage buffer levels. In fixed mode, it will provide power when the input voltage drops to 22.4V, in variable mode when the input decreases by 1V.
Measuring 49 x 123.6 x 115.4mm (W x H x D), the units will operate without derating in ambient temperatures of -25°C to +70°C. The five-year warranty DBM20 has protection against both input overvoltage and overcurrent conditions, has inrush current reduction and internal fusing. Safety certification includes IEC/UL/CSA/EN 62368-1, UL 508 with CE marking to the Low Voltage, EMC and RoHS Directives.
More information can be obtained at the following TDK-Lambda Americas website, product.tdk.com/en/power/dbm, or by calling 800-LAMBDA-4. Product availability for the DBM20 power supply can be found via the link to TDK-Lambda's distributor network (see "Check Distributor Inventory") at www.us.lambda.tdk.com.
Main Applications
Industrial automation, robotics and semiconductor fabrication equipment
Main Features and Benefits
Provides 250ms additional hold-up time at 448W
Utilizes electrolytic capacitors to store energy
Narrow 49mm width
Parallel capable
Output remote on/off function
Key data
Model - DBM20
Input voltage range - Vdc - Fixed mode: 23 - 30, VIN-1 mode: 24 - 30
Output voltage - Vdc - 22.4
Maximum current - A - 20
Average buffer power- W - 448
Signals and indicators - DC OK relay, photo-coupled signals and LEDs
Safety Certifications - IEC / UL / CSA / EN 62368-1, UL 508, CE mark
Size (W x H x D) - mm - 49 x 123.6 x 115.4
Warranty - Five years
About TDK Corporation
TDK Corporation is a world leader in electronic solutions for the smart society based in Tokyo, Japan. Built on a foundation of material sciences mastery, TDK welcomes societal transformation by resolutely remaining at the forefront of technological evolution and deliberately "Attracting Tomorrow." It was established in 1935 to commercialize ferrite, a key material in electronic and magnetic products. TDK's comprehensive, innovation-driven portfolio features passive components such as ceramic, aluminum electrolytic and film capacitors, as well as magnetics, high-frequency, and piezo and protection devices. The product spectrum also includes sensors and sensor systems such as temperature and pressure, magnetic, and MEMS sensors. In addition, TDK provides power supplies and energy devices, magnetic heads and more. These products are marketed under the product brands TDK, EPCOS, InvenSense, Micronas, Tronics and TDK-Lambda. TDK focuses on demanding markets in automotive, industrial and consumer electronics, and information and communication technology. The company has a network of design and manufacturing locations and sales offices in Asia, Europe, and in North and South America. In fiscal 2020, TDK posted total sales of USD 12.5 billion and employed about 107,000 people worldwide.
About TDK-Lambda Corporation
TDK-Lambda Corporation is a trusted, innovative leader and global supplier of highly reliable power conversion products for industrial and medical equipment worldwide. TDK-Lambda Corporation is aligned for fast responses to any customer need with R&D, manufacturing, sales and service locations in five key geographic regions, namely Japan, EMEA, Americas, China and ASEAN.
For more details, please pay a visit to www.jp.lambda.tdk.com/en/
Contact For Media:
Tom Tillman
TDK-Lambda Americas
+1-619-575-4400
tom.tillman@us.tdk-lambda.com
Contact This Company Download Spec Sheet
More from Electronic Components & Devices