New CytoSure NGS Panel Available with Interpret Analysis Software
Press Release Summary: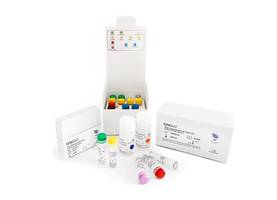 Enables accurate and confident detection of loss of heterozygosity, mosaicism and copy number variants
Meet the increasing desire of labs to transition from microarrays to NGS and obtain as much information as possible from a single assay
Combines the strengths of microarrays and NGS to deliver a comprehensive all-in-one assay
---
Original Press Release:
OGT Develops Transformative Constitutional NGS Panel
CytoSure NGS – Combining the benefits of microarrays and NGS in a single assay
Oxford, UK – 10 December 2019. Oxford Gene Technology (OGT), A Sysmex Group Company, has developed a breakthrough targeted NGS panel for constitutional cytogenetics research. The new CytoSure™ NGS panel—launching early in 2020—will combine the strengths of microarrays and NGS to deliver a comprehensive all-in-one assay. The new panel, in conjunction with OGT's popular Interpret analysis software facilitates the accurate and confident detection of loss of heterozygosity (LOH), mosaicism and copy number variants (CNVs), in addition to those more traditionally assayed by NGS, single nucleotide variants (SNVs) and insertions/deletions (indels).
Featuring the most up-to-date content for Intellectual Disability (ID) and Developmental Delay (DD), the new targeted NGS panel and Interpret software enable users to detect even small (single exon) CNVs accurately — something that is has been challenging with NGS and hence a major step forward for the technology.
Emma Shipstone, EVP, Marketing at OGT commented, "We have developed our CytoSure NGS panel to meet the increasing desire of labs to transition from microarrays to NGS and obtain as much information as possible from a single assay. NGS technologies have traditionally struggled with CNV detection, but thanks to OGT's panel design expertise and advanced software algorithms, we have overcome these challenges, delivering exceptional CNV data that exhibits excellent concordance with arrays. The results are very easy to interpret, with our highly intuitive software allowing a seamless transition to NGS for ID/DD analysis, in what has historically been the domain of the array. Ahead of launch early next year, our early access collaborators are telling us that the data quality speaks for itself and more than meets their requirements."
Dr John Anson, CEO of OGT also added, "Moving with and anticipating market needs, we're strengthening our CytoSure brand in constitutional cytogenetics with the development of our first CytoSure NGS panel. OGT, as a part of Sysmex, is committed to developing our assay portfolio, delivering the highest quality solutions to meet the real-world challenges faced by cytogeneticists. CytoSure NGS represents a real leap forward in NGS technology, demonstrating OGT's capability—as experts in hybridisation—to lead the global market in this field."
For more information please visit https://www.ogt.com/cytosure-ngs
CytoSure™ For Research Use Only; Not for Use in Diagnostic procedures
For Further Information, Please Contact:
Oxford Gene Technology, Begbroke Science Park, Begbroke Hill, Woodstock Road, Begbroke, Oxfordshire, OX5 1PF, U.K.
T: +44 (0) 1865 856800 ; F: +44 (0) 1865 848684
E: contact@ogt.com ; W: www.ogt.com ; Twitter: @OxfordGeneTech
About Oxford Gene Technology
Oxford Gene Technology (OGT) provides world-class genetics research solutions to leading clinical and academic research institutions. Founded by Professor Sir Edwin Southern, and with customers in over 60 countries worldwide, OGT has a strong reputation and increasing share in the large and growing genomic medicine market. The Company's Cytocell®, CytoSure™ and SureSeq™ range of fluorescence in situ hybridisation (FISH), microarray and next generation sequencing (NGS) products deliver high-quality genetic analysis, enabling accurate identification and confirmation of the causative variation underlying genetic disease. OGT was acquired by Sysmex Corporation (Sysmex), a Japanese in vitro diagnostic company in June 2017. The acquisition of OGT expands Sysmex's life science business and reinforces its initiatives towards personalised medicine.
For more information on the Company, please visit our website at www.ogt.com
About Sysmex Corporation
Sysmex Corporation is a world leader in clinical laboratory systemization and solutions, including laboratory diagnostics, laboratory automation and clinical information systems. Serving customers for more than 50 years, Sysmex focuses on technological leadership in diagnostic science and information tools that make a difference in the health of people worldwide. The company is also exploring emerging opportunities in the life science field. Its R&D efforts focus on the development of high-value-added testing and diagnostic technologies that are innovative, original and optimize individual health. Sysmex also seeks to leverage its state-of-the-art technologies for cell, gene and protein analysis. The company, headquartered in Kobe, Japan, has subsidiaries in North America, Latin America, Europe, the Middle East, Africa, China and Asia Pacific and employs more than 8,000 employees worldwide. Sysmex Corporation is listed in the top tier of the Tokyo Stock Exchange.
For more information about Sysmex Corporation and its affiliate companies, please visit www.sysmex.co.jp/en/.
Contacts:
Alto Marketing:
Victoria Coupe – Senior Account Manager; E: victoriac@alto-marketing.com; T: +44(0)1489 557672
Client:
Emma Shipstone – EVP, Marketing; E: Emma.Shipstone@ogt.com ; T: +44 (0)1865 856807
More from Fluid & Gas Flow Equipment