New CUT P 550 Pro Wire EDM Machines Come with Human-Machine Interface
Press Release Summary: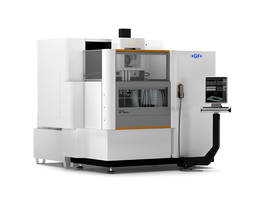 Features Spark Track technology that monitors spark distribution along the wire
Simplifies stopping the machine, adjusting machining strategies or changing part tasks
Allows users to avoid any wire breakage and enables increased performance
---
Original Press Release:
GF Machining Solutions' Offers an Exclusive Preview of New EDM Technology at EMO Hannover 2019
LINCOLNSHIRE, Ill., September 16, 2019 – Visitors to GF Machining Solutions' booth, Hall 27, Stand B26, at EMO Hannover 2019, will get an exclusive first look at technology that brings a new level of flexibility to machine programming for manufacturers. Scheduled to be released in mid-2020, the GF division is inviting users to experience the AgieCharmilles CUT P 550 Pro wire-cutting electrical discharge machining (EDM) solution with a new, easy-to-use interface.
As the fourth industrial revolution – or Industry 4.0 – reshapes the way manufacturers work, GF Machining Solutions is continually innovating to connect to their needs and provide solutions that advance flexibility, productivity, speed and quality. The AgieCharmilles CUT P 550 Pro and its new human-machine interface (HMI) will do just that.
An unprecedented advance
Whether the machine operator is used to working with the Vision interface or is an experienced machinist accustomed to ISO programming, the object-oriented HMI represents an unprecedented alternative that enables the highest productivity:
The user-friendly interface features attractive and easy-to-understand graphics to guide the way to machining success.
The flexible interface simplifies such tasks as stopping the machine, adjusting machining strategies or changing a part.
Complex processes are logical and intuitive thanks to the use of clear on-screen icons.
Its ease-of-use ensures a low learning curve, so novices, seasoned Vision users or veteran ISO code programmers alike can adapt quickly.
Spark Track: Pushing the limits of wire EDM
In addition to the new HMI, the CUT P 550 Pro at EMO Hannover 2019 will feature GF Machining Solutions' new Spark Track technology, a wire-cutting EDM breakthrough in monitoring spark distribution along the wire. Spark Track technology, with its state-of-the-art Intelligent Spark Protection System (ISPS) module, makes the wire EDM process more secure, efficient and easy to execute. The smartest system on the market, ISPS allows users to avoid any wire breakage – regardless of machining conditions – while enabling increased performance.
About GF Machining Solutions
GF Machining Solutions is the world's leading provider of machine tools, diverse technical solutions and services to manufacturers of precision molds and tooling and of tight-tolerance, precision-machined components. The key segments we serve include the aerospace, automotive, medical, energy, information and communications technology (ICT) and electronics industries. Our extensive portfolio ranges from Electrical Discharge Machining (EDM) solutions, three- and five-axis Milling machines and Spindles, Laser texturing machines, Additive Manufacturing and machines for Laser micromachining to solutions for Tooling, Automation, Software and Digitalization—all backed by unrivaled Customer Services and support. GF Machining Solutions is a globally acting Division of the Georg Fischer Group (Switzerland) and maintains a presence at 50 locations worldwide. Its 3,394 employees generated sales of CHF 1,066 million in 2018. More information can be found at www.gfms.com.
MEDIA CONTACTS:
Heather Natal
Marketing Manager
GF Machining Solutions LLC
847.955.7177
heather.natal@georgfischer.com
or
Chuck Bates
Vice President
dgs Marketing Engineers®
317.813.2230
More from Fluid & Gas Flow Equipment