New Curated Color Collection from Dura Supreme are Ideal for Cabinetry
Press Release Summary: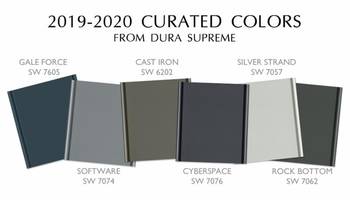 Offer painted finishes that are designed to designers and homeowners
Available in six colors: Gale Force, Cyberspace, Software, Rock Bottom, Silver Strand, and Cast Iron
Comes in navy blue color for accents in kitchen, bath cabinetry or kitchen
---
Original Press Release:
The New Curated Color Collection from Dura Supreme Offers an On-Trend Paint Finishes for Cabinetry
HOWARD LAKE, MN: Dura Supreme has announced their new Curated Color Collection for 2019-2020. The Curated Color Collection is a collection of painted finishes designed to help designers and homeowners select from a curated set of top trending colors for their cabinetry.
Dura Supreme's Curated Color Collection is updated annually as color trends shift. This offering of colors is always fresh and current, and reflective of popular color trends for home interiors and cabinetry. According to Karen Wistrom, VP of Marketing, "This has been the year of Navy Blue for accents in kitchen and bath cabinetry or even throughout an entire kitchen. The challenge for homeowners and designers is "Which shade of Navy Blue?" Dura Supreme's Curated Color Collection selects six specific shades of trending colors and makes them readily available for your custom crafted cabinetry."
The six colors released for the Curated Color Collection include Gale Force (SW 7605), Cyberspace (SW 7076), Software (SW 7074), Rock Bottom (SW 7062), Silver Strand (SW 7057), and Cast Iron (SW 6202). These colors will be available as Curated Color orders until December 31, 2020, when new colors will be curated and introduced to the collection.
About Dura Supreme Cabinetry
Located in Howard Lake, Minnesota, Dura Supreme manufactures semi-custom and custom, framed and frameless cabinetry for a nationwide network of dealers. For 60+ years homeowners and designers have looked to Dura Supreme for kitchen and bath cabinetry that fulfills their desire for personalized design choices and outstanding quality of construction. To learn more about Dura Supreme or to contact an authorized Dura Supreme cabinetry dealer visit www.durasupreme.com.
Media Contact:
Mandi Juskiewicz
Marketing Communications for Dura Supreme Cabinetry
Phone: (888) 711-3872 Ext. 4542
Fax: (320) 543-4591
Email: marketing@durasupreme.com 
300 Dura Drive, Howard Lake, MN 55349
Related