New Cupola360 from Aspeed Offers 360 Degree Video
Press Release Summary: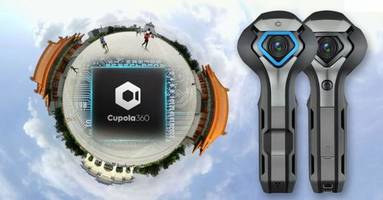 Aspeed's new Cupola360 image processor offers 360 degree video and live streaming without need for a computer or phone. Its SoC stitches six images together, balancing brightness and color, offering 4K2K resolution and 5MP image sensors, and 3D antishake face tracking. The processor compresses video for high quality and small file size for 2.4 and 5 GHz streaming. It also offers low power consumption and supports microSD cards up to 2TB.
---
Original Press Release:
360º video stitching for real-time streaming
Taiwanese ASIC manufacturer Aspeed Technology now tackles 360º video processing with a proprietary 360-degree spherical image processor it will showcase at CES implemented in an affordable consumer 360-degree camera.
The Cupola360 as the handheld product is called, does not require an external computer or mobile phone to process its images. The custom SoC seamlessly performs in-camera stitching process joins the six images together, supporting Wide Dynamic Range and Hyper-WDR to instantly balance brightness and colour across the entire 360-degree image or video. The system adjusts levels to ensure exceptional clarity and sharpness, without washed-out or underexposed areas.
The Cupola360 boasts 4K2K high resolution, 5MP high-sensitivity big-pixel image sensors, 3D anti-shake, face tracking, plus 360-degree live streaming and instant online sharing.  The camera's four sensitive microphones are also recording and streaming detailed vivid live sound.
Aspeed hardware provides HEVC H.265 compression in the camera itself, ensuring high-quality video but with the lowest possible file size for fast 2.4GHz and 5GHz Wi-Fi real-time streaming.
The custom-designed hardware is able to achieve extremely low power consumption, allowing 90 minutes recording time for 4K video. For video and image storage in the camera, MicroSD cards up to 2TB are supported. A USB connector allows for battery charging and provides an additional data transfer option. 
Aspeed Technology- www.aspeedtech.com
More from Sensors, Monitors & Transducers