New Crestron Enterprise Room Scheduling Connects Directly to Standard Calendar Platforms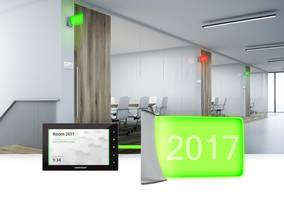 New TSW touch screens and SSW Room Availability Hallway Sign connect directly and securely to popular calendar platforms to make it easy to book and locate available rooms from anywhere
Orlando, FL – June 14, 2017 – Crestron, a global leader in enterprise control and automation technology, will introduce its enterprise room scheduling solution at InfoComm™ 2017 in Orlando, FL, June 14 – 16, Booth 1900 and Audio Demo Room 225AB. As part of its simple, scalable, secure Enterprise Room Solutions, Crestron is demonstrating the new TSW x60 Series room scheduling touch screens, which connect directly to the most popular enterprise calendaring platforms, and the high visibility SSW Room Availability Hallway Sign (SSW) to make it convenient to book and locate available meeting spaces from anywhere: in the hallway; in the room via Crestron Mercury™ meeting solution, DGE-100, or DM-DGE-200-C; and from the Crestron PinPoint™ app.
In the hallway
With the SSW, office workers simply take a quick glance down the hallway. Wall mounted outside meeting rooms, the SSW illuminates bright green to indicate an available room, and red to indicate an occupied room. The SSW is perfectly visible from up to 50 feet away and yet highly energy efficient, utilizing less than 2 watts. Integrators simply connect the SSW to an enterprise-grade Crestron TSW x60 Series touch screen via the included 15' USB cable for a programming-free solution with instant functionality.
TSW x60 Series touch screens connect directly and securely to Microsoft® Exchange, Office 365®, and G Suite™ applications without a control system or additional software, which makes installation and large-scale deployment faster and easier. The new TSW touch screens also support HTML 5, which makes it easier for integrators to create themes, add full-motion video backgrounds, and dynamically make changes to any or all touch screens on the network.
In-room
Room availability and detailed meeting information, including connectivity instructions, the organizer's name, subject of the meeting, and start/end times are shown on the Mercury console's screen on the table and the room display. Alternatively, for free form spaces and other simple rooms with an installed display, the DGE-100 and DM-DGE-200-C provide the same helpful onscreen information. During the meeting, the room calendar information, including a countdown clock to show the time remaining, can be displayed over the presentation video.
From the app
From the Crestron PinPoint app, it's simple to locate and book nearby rooms with the right technology and seating capacity to meet the requirements of any meeting.
Data and reporting
Like all Crestron Enterprise Solutions, TSW x60 Series touch screens and the SSW integrate with Crestron Fusion® scheduling and monitoring software to provide organizations with the actionable room and device usage data and reporting they need to make informed business decisions that optimize workflow, space, and technology.
Learn more
Crestron is demonstrating its new enterprise room scheduling solution, along with other simple, scalable, secure Enterprise Room Solutions, in Booth 1900 and Audio Demo Room 225AB at InfoComm 2017 in Orlando, FL, June 14 – 16.
About Crestron
At Crestron we build the technology that integrates technology. Our automation and control solutions for homes and buildings let people control entire environments with the push of a button, integrating systems such as AV, lighting, shading, security, BMS and HVAC to provide greater comfort, convenience and security. All of our products are designed and built to work together as a complete system, enabling you to monitor, manage and control everything from one platform.
Our products are backed by more than 90 fully-staffed offices that provide 24 x 7 x 365 sales, technical, and training support across the globe. In addition to its World Headquarters in Rockleigh, New Jersey, Crestron has sales and support offices throughout the U.S., Canada, Europe, Asia, Latin America, and Australia. Discover Crestron by visiting www.crestron.com.
Join the conversation
Tel. 888-273-7876
15 Volvo Dr.
Rockleigh, NJ 07647 United States
Contact:
Ron Epstein
Crestron Electronics, Inc.
Phone: (201) 564-6047