New Coval VPSC Suction Cups are Equipped with G1/4 in. Female Pressed Aluminum Fitting
Press Release Summary: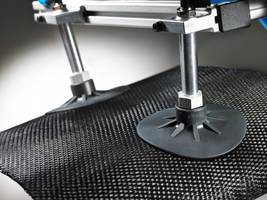 Coval VPSC Series Suction Cups are available in two materials: Polyurethane 60 Shore A (PU) and Blue Silicone 50 Shore A (SIBL5) in two diameters (Ø 40 to 80 mm). Unit's vacuum distribution across the surface of cup offers optimized gripping without any mark or deformation. The cups come with extra thin sealing lip contours and are suitable for use in aeronautic and cheese handling applications.
---
Original Press Release:
A Range of Suction Cups Specially Designed Not to Deform the Material Handled
Gripping composite materials with suction cups poses the difficulty of marking uncooked material. COVAL, partner since many years of the industrialists of the aeronautical and food-processing sectors, developed a suction cup answering these constraints.
Ultra-Flat, Non-Marking Suction Cups, VPSC Series
Developed through partnerships with the composite material industry, the VPSC suction cups are dedicated to the handling of raw composite.
Their ultra-flat profile and innovative system of vacuum distribution across the surface of the cups provide optimized gripping with no mark and no deformation. The extra thin sealing lip contours to the product shape without restriction.
The specific characteristics of these suction cups enable its use in aeronautic and other fields such as cheese handling or other fragile, easily deformed products.
Materials
The VPSC cups are available in two materials to meet all the applications:
Polyurethane 60 Shore A (PU), high resistance to hydrocarbons and high durability.
Blue Silicone 50 Shore A (SIBL5), food compliance. FDA and CE standards.
Dimensions and Fitting VPSC suction cups are available in 2 diameters (Ø 40 to 80 mm) and are equipped with a G1/4"- Female pressed aluminium fitting
COVAL. The vacuum you need. Where you need it, when you need it.
Established in the south of France, COVAL SAS designs, produces and markets high-performance vacuum components and systems throughout the entire world for industrial applications in all lines of business. COVAL is an ISO 9001 V2015 certified company that innovates on a global scale in the area of vacuum handling using optimized components with integrated, intelligent and reliable features. Its solutions can be adapted to any industrial context and their primary goal is to improve productivity with safety in mind. COVAL's clients are present in all major industrial fields in which vacuum handling is critical for efficiency and productivity. These fields include packaging, automotive, plastic processing, aeronautics, and palletizing. COVAL markets its products and services throughout Europe as well as in North and South America through its subsidiaries and its network of authorized distributors.
Facts and Figures Company
French company founded in 1986
Company size: 100+ employees
2016 revenue: €16.5 million
25 distributors in France and 30 international
5 subsidiaries: China, Germany, Italy, Spain, U.S.A.
Production site and head office: Montélier, France 
Products
Vacuum pumps, suction cups, vacuum switches, vacuum grippers, accessories
COVAL VACUUM TECHNOLOGY Inc.
901 Jones Franklin Road
Suite 100
RALEIGH, NC 27606
UNITED STATES
Joe REAMS
Phone: +919 233-48-55
joe.reams@coval.com
COVAL
ZA des petits champs
26120 Montélier
Stephane Garcia
Phone: 0612804776
stephane.garcia@coval.com
Montelier
Related