New Cooker and Vacuum Cooling Skid for Chickpeas and Potatoes
Press Release Summary: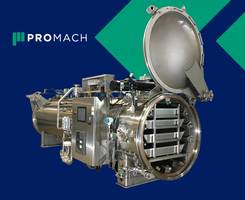 Cookers feature stainless-steel construction
Offered in various diameters with vessel lengths geared to optimal use of available space
Vacuum-cooling skid features automated controls, can be designed to service one or more cookers, saving floor space and lowering capital investment
---
Original Press Release:
Allpax Introduces a One-stop-shop for Cooking and Vacuum Cooling Fresh Foods
This solution includes stainless-steel pressure cookers with FDA compliant process controls and a vacuum cooling skid.
Covington, La., June 18, 2020 – Allpax, a product brand of ProMach, offers a complete fresh-product cooking and vacuum cooling solution for items such as chickpeas and potatoes – ingredients in retail and food service refrigerated dips and salads, including hummus, potato salad, and mashed potatoes.
Allpax fresh-product cookers feature stainless-steel construction. Doors located on the load and unload sides prevent cross contamination between the processed and unprocessed areas of the production line. The use of swing-up orbital doors rather than traditional swing-out doors significantly reduces the unit's footprint, conserving valuable floorspace.
The vessels are insulated and then wrapped with a stainless-steel cladding that saves energy and reduces the amount of heat radiated into the loading and unloading areas. Cladding also provides a clean, appealing appearance. Allpax fresh-product units supply even temperature throughout the vessel for consistent product quality and a shorter pressure-cooking process. The Allpax vacuum system ensures rapid cooling for enhanced product quality and minimum energy costs. Cookers are offered in various diameters with vessel lengths geared to optimal use of available space.
The Allpax control system, which is compliant with FDA Food Safety Modernization Act guidelines, provides for precise, repeatable processing and complete batch process documentation. The vacuum-cooling skid, also featuring automated controls, can be designed to service one or more cookers, saving floor space and lowering capital investment. Recipes are easily changed or added through the system's touchscreen interface. Increasing the number of vessels and vacuum skids as the business grows will be seamless as personnel will already be familiar with the hardware and control system.
Allpax offers custom designed trays, racks, and carts, and can also provide equipment for automating the retort loading, unloading, and other handling processes. Automation lowers labor costs and improves worker safety. Allpax provides onsite and remote support services to keep fresh-product cooking/cooling operations at maximum throughput.
Call 888-893-9277 or visit Allpax at www.Allpax.com for information about the company's cooking/sterilization and automation products and services.
About Allpax
Allpax, a product brand of ProMach, is a global leader in the design and fabrication of food sterilization (cookers/retorts/autoclaves), material handling automation equipment, and systems for the refrigerated foods and low acid, shelf-stable food, beverage, and pharmaceutical/nutraceutical industries. Allpax is a full-service provider to both small and large multinational processors. Learn more about Allpax at www.Allpax.com.
About ProMach
ProMach is a family of best-in-class packaging solution brands serving manufacturers of all sizes and geographies in the food, beverage, pharmaceutical, personal care, and household and industrial goods industries. ProMach brands operate across the entire packaging spectrum: filling and capping, flexibles, pharma, product handling, labeling and coding, and end of line. ProMach also provides Performance Services, including integrated solutions, design/build, engineering services, and productivity software to optimize packaging line design and deliver maximum uptime.
ProMach designs, manufactures, integrates, and supports the most sophisticated and advanced packaging solutions in the global marketplace. Its diverse customer base, from Fortune 500 companies to smaller, privately held businesses worldwide, depends on reliable, flexible, technologically advanced equipment and integrated solutions. ProMach is headquartered near Cincinnati, Ohio, with manufacturing facilities and offices throughout the United States, Canada, Mexico, Brazil, Europe, United Arab Emirates, and China. For more information about ProMach, visit www.ProMachBuilt.com.
Media Contact:
John Eklund
Vice President, Marketing
ProMach
John.Eklund@promachbuilt.com
More from Fasteners & Hardware