Programmable Logic Controllers
New ControlEdge Transition Tool from Honeywell Enhances Process Uptime
Press Release Summary: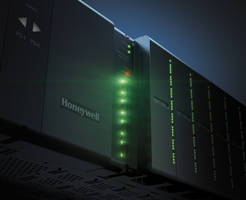 ControlEdge™ Transition Tool migrate obsolete, risk-prone PLCs to productive assets that strengthen security of an industrial site. The tool captures necessary data required for upgrade planning by surveying and recording the number of obsolete PLCs present at a site. ControlEdge™ Transition's automated conversion process upgrades ControlEdge PLCs and integrates into SCADA or DCS system.
---
Original Press Release:
Honeywell's New Migration Tool Facilitates Quick and Easy Upgrades of Obsolete PLCs
ControlEdge™ Transition addresses the risks of aging plant infrastructure and equipment while increasing plant uptime and cyber security of industrial facilities
HOUSTON, June 4, 2018 – Honeywell (NYSE: HON) Process Solutions (HPS) today announced ControlEdge™ Transition, a tool that makes it easy to migrate obsolete, risk-prone PLCs to Honeywell ControlEdge™ PLCs. This transforms them from liabilities into productive assets that can enhance process uptime and strengthen the security of an industrial site.
If not addressed, outdated PLCs can lead to increased cybersecurity risk or even trigger unplanned site shutdowns. Through a fast, automated conversion process, ControlEdge Transition supports upgrades to Honeywell ControlEdge PLCs, which can then be integrated into a SCADA or DCS system. Additionally, the speed and efficiency of the conversion procedure saves systems integrators and project engineers significant time, cost and risk compared to a manual migration effort.
"Industrial sites around the world are challenged by aging infrastructure and equipment that are not being maintained properly, or which are simply no longer supported, with outdated PLCs proving particularly troublesome," said Andrew D'Amelio, general manager and vice president of HPS' Process Measurement and Control business. "ControlEdge Transition makes migrating to up-to-date, cybersecure PLCs easy and fast."
ControlEdge Transition can be deployed over mobile devices to survey and document the number of obsolete PLCs at a site while capturing relevant data that can be used for accurate upgrade planning. The tool's bidding and engineering reporting capabilities can simplify the development of proposals and reduce engineering effort by 50 percent. In addition, pre- and post-migration reports provide extensive support for design, installation and commissioning of new PLCs.
For more information visit ControlEdge PLC.
Honeywell Process Solutions (www.honeywellprocess.com) is a pioneer in automation control, instrumentation and services for the oil and gas; refining; energy; pulp and paper; industrial power generation; chemicals and petrochemicals; biofuels; life sciences; and metals, minerals and mining industries. It is also a leader in providing software solutions and instrumentation that help manufacturers find value and competitive advantage through Honeywell Connected Plant, Honeywell's Industrial Internet of Things (IIoT) solution. Process Solutions is part of Honeywell's Performance Materials and Technologies strategic business group, which also includes Honeywell UOP (www.uop.com), a leading international supplier and licensor of process technology, catalysts, adsorbents, equipment, and consulting services to the petroleum refining, petrochemical, and gas processing industries.
Honeywell (www.honeywell.com) is a Fortune 100 software-industrial company that delivers industry specific solutions that include aerospace and automotive products and services; control technologies for buildings, homes, and industry; and performance materials globally. Our technologies help everything from aircraft, cars, homes and buildings, manufacturing plants, supply chains, and workers become more connected to make our world smarter, safer, and more sustainable. For more news and information on Honeywell, please visit www.honeywell.com/newsroom.
Contact:
Stefanie Cuene
+1 480.420.5186
More from Machinery & Machining Tools