New ComplianceMate LoRa Sensors are Designed for Restaurants and Foodservice Operations
Press Release Summary: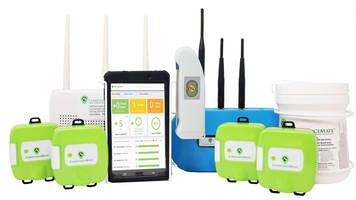 Feature multiple layers of insulation and stainless steel for create an effective Faraday cage
Suitable for environments in which cold-holding storage equipment might be placed at some distance away from rest of the kitchen
LoRa sensor networks can penetrate heavy metal and insulation existing in the commercial kitchen
---
Original Press Release:
ComplianceMate Demos the Market's First Food Safety Equipment to Incorporate LoRaWAN Technology at the NAFEM Show
CM Systems, LLC, maker of the award-winning ComplianceMate Sensor Smart Kitchens system, will be demonstrating the industry's first and most advanced LoRa-enabled temperature equipment at the 2019 North American Association of Food Equipment Manufacturers (NAFEM) Show from February 7-9, 2019 in Orlando, FL. Visit Booth # 1092 for hands-on demonstrations.
LAWRENCEVILLE, GA. (PRWEB) FEBRUARY 09, 2019 - The new equipment represents a new generation of futuristic, Internet of Things-enabled temperature sensing equipment available to restaurants and foodservice operations.
Recognizing that the commercial kitchen environment presents a unique array of challenges to deploying wireless devices and IoT sensors, CM and Laird Technologies, Inc. partnered to create a new family of remote, wireless temperature sensors that could function flawlessly even from within a deep freezer located inside a walk-in cooler. The multiple layers of insulation and stainless steel can create an effective Faraday cage that prevents traditional wireless signals like Bluetooth from transmitting unless some form of remediation is taken.
"We already had what we felt was a very stable and reliable wireless Bluetooth sensor, but we decided we wanted to improve our systems further," says Steve Getraer, President of CM Systems. "Through Laird, we came across this LoRa technology that was lower cost, more durable, and produced a significantly more reliable signal even in difficult conditions."
ComplianceMate is the first company to use LoRa to build wireless sensor networks that can penetrate the heavy metal and insulation present in a commercial kitchen, while additionally boosting battery efficiency with sensors that can last for years on an off-the-shelf battery. LoRa can also transmit over vastly greater ranges than Bluetooth, so it's a perfect fit in environments where cold-holding storage equipment may be located at some distance from the rest of the kitchen.
The new sensors are at the heart of the ComplianceMate Sensor Smart Kitchen systems, which was selected as IoT Innovator of the Year at the 2018 IoT/WT Innovation World Cup® in the Retail category.
"We are proud to lead the market in the implementation and the use of LoraWAN technology in the restaurant space," says Getraer.
The new equipment is on display and available for hands-on demos at the at the 2019 NAFEM Show at the Orange County Convention Center from February 7-9. Visit Booth #1092 to learn more about the Compliance Sensor Smart Kitchens system and its LoRa-enabled sensors.
About CM Systems: 
CM Systems, LLC provides the world's leading monitoring systems for food safety compliance and operational effectiveness. Their principal product offering, ComplianceMate™ has streamlined HACCP compliance checklist and cooler monitoring for thousands of restaurant locations across the US, Canada, the EU, and the UAE. With wireless temperature sensors, mobile technologies, and easy-to-use tools, ComplianceMate™ gives users total control over food safety and compliance. The award-winning system was selected as IoT Innovator of the Year at the 2018 IoT/WT Innovation World Cup®.
Contact Information
Cindy Harper
CM Systems LLC
770-231-2229
Related