New Compact Leak Detector Works with Lithium-ion Battery
Press Release Summary: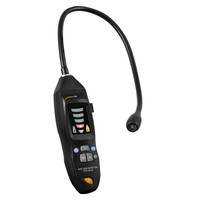 PCE-GA 10 features optical alarm via red LEDs, interchangeable sensor and approx. 500 mm semi-flexible sensor cable
Offered with acoustic alarm up to 85 dB vibration alarm, quick response time and adjustable sensitivity
Can be switched from high to low sensitivity and indicates the sensitivity selection by the left or right triangular LED
---
Original Press Release:
The PCE-GA 10 from PCE Instruments - a Compact Leak Detector for Combustible Gases
The PCE-GA 10 leak detector was developed to detect and locate escaping flammable gases in systems, containers and pipes. The sensor head can be brought close to the examined parts even in confined spaces as it is connected to the device via a semi-rigid 500 mm long gooseneck supply cable.
The sensor detects the following combustible gases:
Ammonia, benzene, ethane, ethanol, ethylene, formaldehyde, hexane, ISO butane, methane, propane, P-xylene, hydrogen sulphide, toluene and hydrogen and flammable compounds of these substances.
The hand-held device shows the presence and concentration of these flammable gases via five red LED bars arranged one above the other. In addition, audible and vibration alarms can be activated via the keys. Users are thus warned even if they cannot constantly look at the meter due to the conditions on site. The PCE-GA 10 can be switched from high to low sensitivity and indicates the sensitivity selection by the left or right triangular LED. After switching on the leak detectorin an uncontaminated area and when the automatic calibration is finished, it is recommended to search with high sensitivity first in order to be able to detect low concentrations. When flammable gases are detected, it is possible to switch to low sensitivity when the concentration is high, so that the location where the gas leaks can be narrowed down further.
The PCE-GA 10 works with a lithium-ion battery that can be recharged with the included charger. The sensor has a limited shelf life but can be easily replaced. Both the need to recharge the battery and to replace the sensor are indicated by the meter via warning lights.
Here is a brief description of the leak detector PCE-GA 10:
Mobile leak detector for combustible gases
Approx. 500 mm semi-flexible sensor cable
Optical alarm via red LEDs
Acoustic alarm up to 85 dB
Vibration alarm
Quick response time
Adjustable sensitivity
Automatic calibration
Interchangeable sensor
With mains adaptor for the rechargeable battery
The compact and easy-to-use gas leak detector PCE-GA 10 enables the simple and quick detection of many combustible gases. It can therefore be used in companies as well as in private areas. The gas detector warns of gas accumulations in buildings, on vehicles and machines and on systems and equipment where flammable gases can escape. Danger can thus be detected in time and appropriate countermeasures can be taken.
https://www.pce-instruments.com/english/measuring-instruments/test-meters/leak-detector-kat_41789.htm
Company Contact:
PCE Instruments UK Ltd
Unit 11 Southpoint Business Park
Ensign Way, Southampton
Hampshire
United Kingdom, SO31 4RF
Email: info@pce-instruments.co.uk
Homepage: www.pce-instruments.com
Press Contact:
PCE Deutschland GmbH
Ludger Droste
Im Langel 4
59872 Meschede
Germany
ldr@pce-instruments.com
Contact This Company Download Spec Sheet
More from Laboratory and Research Supplies and Equipment