New Compact Adapters with USB Type A Connector Option
Press Release Summary: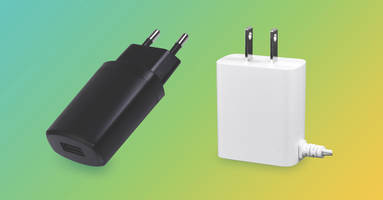 SWI10B-N, SWI10B-N-USB, SWI10B-E and SWI10B-E-USB provides no-load power consumption less than 0.075 watts
Available in ultra-compact design as well as with black and white color options
Features up to 10 W of continuous power
---
Original Press Release:
Compact, Efficient, and Economical 10 Watt Adapters
Tualatin, Ore. — August 12, 2020 -- CUI Inc today announced the addition of four 10 watt external, ac-dc power supply series to its SWI product family.
New Series
Features and Benefits
Up to 10 W of continuous power
No-load power consumption less than 0.075 watts
Universal input voltage range
Level VI, EU 2019/1782, and CoC Tier 2 compliant
IEC 62368-1 certified
Black and white color options
Ultra-compact design
USB Type A connector option
All four series meet the current average efficiency and no-load power specifications mandated by the US Department of Energy (DoE) under the Level VI standard, as well as the European Union's (EU) Ecodesign 2019/1782 and CoC Tier 2 directives for external power supplies.
These compact adapters are ideal for powering a wide range of electronic devices and are IEC 62368-1 certified for ICT and AV Equipment, so you won't be caught off guard on December 20, 2020 when the IEC 60950-1 and 60065 standards expire. 
The SWI10B series are widely available online through CUI's distribution partners. Please contact CUI for OEM & volume pricing or modified & custom designs.
About CUI Inc
CUI is an electronic components manufacturer focused on creating ease of access to power supply products and information that help drive an engineer's design. As a leader in power electronics, the organization offers an extensive line of ac-dc power supplies and dc-dc converters to their global customer base that serves the consumer, IoT, industrial, and medical industries. CUI knows that helping their customers is the core of what they do and this why they are determined on providing the best set of tools, information, and services to everyone in need of a power supply.
CUI Inc is a Bel group company. Bel Fuse Inc. trades on the NASDAQ Exchange under the symbols BELFA and BELFB.
Media Contacts:
CUI Inc
Jeevan Gaberria, +1 503 612 2353, jgaberria@cui.com, twitter.com/cuiinc
Publitek
Alexandra Sorton, +44 7738 682837, alexandra.sorton@publitek.com, www.publitek.com
More from Electronic Components & Devices