New Common Mode Choke Coil for Automotive Ethernet Applications
Press Release Summary: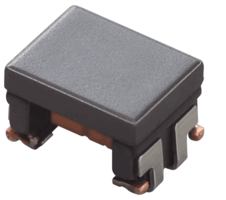 DLW32MH201YK2 is able to withstand extreme temperatures and is AEC-Q200 compliant
Operating temperature ranges from -55 to +150 degrees C
Available in 1210-inch size and ECUs can be installed in a wide range of areas
---
Original Press Release:
Murata's Automotive Ethernet Common Mode Choke Coil Withstands Temperatures up to 150 Degrees C
Hoofddorp, Netherlands: Murata has announced the release of the DLW32MH201YK2 common mode choke coil (CMCC) for Automotive Ethernet (100BASE-T1) applications. The choke coil is able to withstand extreme temperatures and is AEC-Q200 compliant.
In recent years, as cars have become equipped with more advanced features, the number of ECUs installed in them has been increasing in order to support the functions of autonomous driving systems such as ADAS. As networks for connecting these ECUs, high-speed interfaces that support the differential signal transmission systems like Automotive Ethernet are becoming more and more common. Along with, and to serve this trend, there is a growing need for components that can be used in high-temperature environments such as engine compartments.
Murata's DLW32MH201YK2 common mode choke coil has a very wide operating temperature range of -55 to +150 degrees C, which compares very favourably to the -40 to +125 degrees C temperature range of conventional products, allowing it to be used in harsh temperature environments. This improved performance has been achieved by employing metal termination that absorbs the stresses associated with temperature change, as well as by optimizing the combination of Murata's own original materials and product design. Moreover, as the product's form factor has been kept to a small size of 1210-inch (3.2 x 2.5 mm), ECUs can be installed in a wider range of areas.
AEC-Q200 compliant, the 80V rated choke coil eases the job of the designer as virtually all companies that are designing and producing automotive applications equipment now specify components that are compliant with this standard.
Mass production of the DLW32MH201YK2 common mode choke coil has begun, and Murata will continue to develop products that meet the needs of the market and contribute to enhancing the automotive networks that support autonomous driving.
For Further Information and Reader Enquiries:
Dunya Kamil
Murata Electronics Europe B.V., Wegalaan 2, 2132 JC, Hoofddorp, The Netherlands
Tel:+31 (0) 23 56 98 456
E-mail: dkamil@murata.com
Fax:+31 (0) 23 56 98 361
Web: www.murata.com
Agency contact:
Rachel Sandeman, Publitek Limited, 18 Brock Street, Bath, BA1 2LW, United Kingdom
Tel:+44 (0) 2038 136425
E-mail: rachel.sandeman@publitek.com
Web: www.publitek.com
About Murata
Murata is a leading manufacturer of electronic components, modules, and devices. The complete range includes ceramic capacitors, resistors/thermistors, inductors/chokes, timing devices, buzzers, sensors and EMI suppression filters. Whilst the company is known as a global ceramic capacitor manufacturer, it is also a world leader in Bluetooth® & WiFi™ Modules, board-mount DC-DC converters and is a key manufacturer of standard and custom AC-DC power supplies.
Established in 1944, Murata is headquartered in Japan and has European offices in Finland, France, Germany, Hungary, Italy, the Netherlands, Spain, Switzerland and the UK.
For more information on Murata, please visit: www.murata.com. You can also follow us on Twitter @MurataEurope or LinkedIn http://www.linkedin.com/company/murata-electronics, or join us on Facebook at http://www.facebook.com/MurataElectronics.