New ColorCert QA Pressroom Quality Control Software Streamlines Color Communication
Press Release Summary: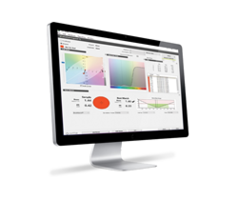 The ColorCert QA Pressroom Quality Assurance Software is designed for customer to manage standards efficiently and facilitate strong ink room integration. The software offers actionable data for color adjustments and enables utilization of people, processes and technologies during the print and packaging workflow. It is integrated into PantoneLIVE™ color communication ecosystem for Pantone Color consistency. The ColorCert features a search and find application that is used during standard creation.
---
Original Press Release:
X-Rite Launches New Pressroom Quality Control Software for Printers and Converters
ColorCert QA improves efficiencies by reducing the time press operators spend getting to and maintaining accurate color, enabling more jobs on press per shift.
GRAND RAPIDS, MICH. (PRWEB) SEPTEMBER 18, 2018 - X-Rite Incorporated, a global leader in color science and technology, and Pantone LLC announced the launch of ColorCert QA, a new pressroom quality assurance software designed to drive excellence in the pressroom by helping customers manage standards more efficiently, optimize jobs on press and facilitate strong ink room integration. With improved quality control, commercial and package printers can reduce the time and complexity associated with managing color standards and minimize waste, ultimately reducing reprints and rejections and increasing the number of jobs they are able to run per shift.
"As run lengths and delivery times continue to grow shorter, press operators can no longer afford to adjust color with multiple trial-and-error corrections," said Ray Cheydleur, Printing and Imaging Product Portfolio Manager, X-Rite. "ColorCert QA provides valuable information essential for an efficient pressroom. Not only does the software indicate pass/fail when measured color is compared to the color standard, but it also provides guidance on actions the press operator can take to ensure the job meets color expectations. This significantly reduces trial-and-error adjustments, saving time and reducing waste."
ColorCert QA is part of the ColorCert Suite, a modular set of tools to streamline color communications, provide actionable data for color adjustments and enable better utilization of existing people, processes and technologies throughout the print and packaging workflow. The new ColorCert QA module supports a non-job-based workflow, helping achieve color accuracy and consistency, especially when used in conjunction with an X-Rite eXact handheld spectrophotometer.
Key features of ColorCert QA: 
BestMatch technology provides color data in a visual format that press operators can easily understand and act upon.
A Search and Find application for use during standard creation to notify a user of existing standards within a selected Delta E. This reduces overlapping standards that are within a narrow Delta E range.
Ink room integration, including the sharing of CxF files directly to X-Rite Ink Formulation software, to provide digital color measurement data when ink reformulation is required.
Direct integration with PantoneLIVE™, an end-to-end color communication ecosystem that ensures Pantone Color consistency from design through final production by setting achievable expectations of the entire supply chain.
X-Rite and Pantone will be demonstrating the ColorCert Suite, including the new ColorCert QA module, at Label Expo 2018, Sept 25-27 in booth #5202. At the show, attendees will also see an exclusive demo of the new cross-platform integrated workflow solution between X-Rite, Pantone, Esko and AVT.
For more information about the ColorCert Suite visit https://www.xrite.com/categories/formulation-and-quality-assurance-software/colorcert.
About PantoneLIVE 
PantoneLIVE is a cloud-based solution that enables the Pantone Color language to be communicated and targeted for accurate color production across the entire supply chain – from design concept to final color production. The PantoneLIVE family includes PantoneLIVE Design, PantoneLIVE Production - Print & Packaging and PantoneLIVE Production – Plastic, Coatings, and Textile. The different offerings are tailored to meet the specific needs of designers, color material suppliers, and manufacturers working with paper, film, plastics, coatings and textiles. The PantoneLIVE family is supported by licensed hardware and software that enables each area of the packaging, plastic, coatings, and textile supply chains to access spectral data for matching Pantone Colors, in addition to specific brand palettes. This results in consistent and repeatable color across product families, regardless of material, media or print technology, providing a cohesive brand approach. For more information, please see http://www.pantone.com/live.
About X-Rite 
Founded in 1958, X-Rite Incorporated is a global leader in the science and technology of color and appearance. With Pantone, X-Rite employs more than 800 people in 11 countries. The company's corporate headquarters are located in Grand Rapids, Mich., with regional headquarters in Europe and Asia and service centers across Europe, the Middle East, Asia, and the Americas. X-Rite offers a full range of solutions used by manufacturers, retailers, printers, photographers and graphic design houses to achieve precise management and communication of color and appearance throughout their processes. X-Rite products and services are recognized standards in the printing, packaging, photography, graphic design, video, automotive, paints, plastics, textiles and medical industries. For further information, please visit http://www.xrite.com. For the latest news, information, connect with X-Rite on LinkedIn, Twitter, and Facebook.
About Pantone 
Pantone provides the universal language of color that enables color-critical decisions through every stage of the workflow for brands and manufacturers. More than 10 million designers and producers around the world rely on Pantone products and services to help define, communicate and control color from inspiration to realization – leveraging advanced X-Rite technology to achieve color consistency across various materials and finishes for graphics, fashion and product design. Pantone Standards feature digital and physical color specification and workflow tools. The Pantone Color Institute™ provides customized color standards, brand identity and product color consulting as well as trend forecasting inclusive of Pantone Color of the Year, Fashion Runway Color Trend Reports, color psychology and more. Pantone B2B Licensing incorporates the Pantone Color System into different products and services, enabling licensees to communicate and reproduce certified Pantone values and improve efficiencies for their users. Pantone Lifestyle brings color and design together across apparel, home, and accessories. Learn more at http://www.pantone.com and connect with Pantone on Instagram, Facebook, Pinterest, and LinkedIn.
Contact Information
Alicia Libucha
X-Rite
http://www.x-rite.com
+1 857-205-0919
More from Electrical Equipment & Systems