New Code Reader Reads Aztec and Micro QR Codes
Press Release Summary: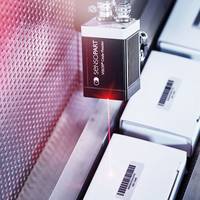 Presentation mode can be set up using the "Result Processing" detector
Available with a resolution of 0.5, 1.5 or 5 megapixels
Can interrupt around 35 1D and 2D codes commonly used in industry
---
Original Press Release:
New Functions for The VISOR® Code Reader
As part of a comprehensive software upgrade for the VISOR® vision sensor family, SensoPart has equipped its VISOR® Code Reader with additional functions. The sensor is now also able to read Aztec and micro QR codes.
A familiar sight on train and plane tickets, the Aztec code is becoming increasingly prevalent in industry. The same applies to the compact version of the QR code, the micro QR, which is a space-saving alternative e.g. for the marking of electronic components. Following the latest software upgrade, the VISOR® Code Reader can now also interpret both types of code – in addition to around 35 other 1D and 2D codes commonly used in industry. "Thanks to its versatility, our Vision Code Reader is one of the very best on the market," emphasises Marcus Koslik, Product Manager Vision at SensoPart.
Another new feature is the so-called presentation mode, which can be set up using the "Result Processing" detector. If objects move under the sensor at a slow speed and the same code is consequently read several times, it is still only output once. An additional trigger that signals the arrival of a new object with a different code is therefore no longer necessary.
Extended range of quality parameters
In addition to versatility, so-called quality parameters are also important for process-reliable code reading. With their help deviations in the readability of codes – for example, a decline in print contrast – can be detected at an early stage. This function has also been significantly enhanced with the current upgrade, which supports four additional quality parameters defined in the new ISO/IEC TR 29158 standard, based on the 2006 AIM DPM Guideline for assessing the quality of directly marked 2D codes. Furthermore, the VISOR® Code Reader now also supports all 21 quality parameters of the SEMI T10-0701 standard for the evaluation of 2D codes marked directly on semiconductor materials.
With these new codes and quality standards, the high-performance VISOR® Code Reader can be used across the entire spectrum of industrial applications. Available with a resolution of 0.5, 1.5 or 5 megapixels (VISOR® V10, V20 and V50 respectively), the vision sensor comes equipped with the latest software. The software upgrade, which also includes a revamped version of the monitoring software SensoWeb, is available to all VISOR® users for free download.
About SensoPart Industriesensorik GmbH
SensoPart develops, produces and sells a wide range of innovative sensors for factory automation. The main focus is on optoelectronic sensors and camera-based vision sensors, which are used in industrial applications - e.g. for object or color detection, distance measurement, code reading or in robotics. The company's products are developed and manufactured in Germany, at the plants in Gottenheim, near Freiburg-im-Breisgau, and Wieden in the southern part of the Black Forest. With four subsidiaries and a network of 40 international sales partners, SensoPart is present worldwide.
Founded in 1994, the family-run company is synonymous with flexibility and stands for innovative and high-performance products. SensoPart has received numerous distinctions for its work, for example 1st place in the Automation Award and is multi-time winner of the German Sensor Application Prize.
For further information about SensoPart, visit www.sensopart.com.
Contact:
SensoPart Industriesensorik GmbH
Web: www.sensopart.com
Bernd Eckenfels
Phone: +49 7665 94769-743
Email: presse@sensopart.de
More from Sensors, Monitors & Transducers