New ClearContact Windshield Wiper Blades from Continental Resists UV Light and Harsh Environmental Conditions
Press Release Summary: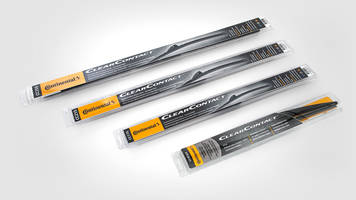 Available for front and rear wiper applications and comes with beam design
Maintains even pressure on the wiper blade for consistent performance, from edge to edge
Rear wipers are offered with 19 part numbers in lengths from 10 to 16 inches and features quick and easy OE fit
---
Original Press Release:
Continental Debuts Full Line of ClearContact Premium Beam Windshield Wiper Blades
Features OE fit and requires no adapters for fast, one-step installation
Shops need only 14 part numbers to cover over 94% of cars and light trucks
Allentown, PA September 9, 2019 – Continental, a leading global supplier of systems, components, and tires to automobile and truck manufacturers, has just introduced its new line of ClearContact premium beam windshield wiper blades to the U.S. and Canadian markets. Designed for professional technicians, the new program features quick and easy OE fit and trouble free inventory. ClearContact wiper blades do not require any adapters and come fitted with the right connection needed for the vehicle. With the program's 14 front windshield part numbers in stock, shops can cover over 94% of passenger cars and light trucks that come in for service. Overall VIO in the United States and Canada exceeds 258M.
ClearContact windshield wiper blades are available for both front and rear wiper applications. The front blades feature an all beam design and are available in 14 part numbers covering lengths from 15 to 28 inches. The rear wipers are offered with 19 part numbers in lengths from 10 to 16 inches.
Howard Laster, Executive Director, Automotive Aftermarket North America, Continental Commercial Vehicles & Aftermarket (CVAM) business unit, announced the new program and noted, "We are extremely excited about our new ClearContact wiper blades program because it readily complements our leading aftermarket programs and makes us more valuable to our distribution partners, import specialists, and service shops."
Laster added, "In addition to the selling power and OEM heritage of the Continental brand, our ClearContact wiper blades are ready to use right out of the box, just like our renowned REDI-Sensor TPMS Sensors. There's no need for adapters or fumbling with the fit. With ClearContact, wiper blade replacement is a fast and easy one-step operation. Plus, the maximum application coverage offered by our minimal inventory requirement makes ClearContact the ideal choice for service shops, tire dealers, and quick lubes."
A clear view in any weather
Featuring an advanced beam design, ClearContact windshield wipers maintain an even pressure on the wiper blade for consistent performance, from edge to edge. The state-of-the-art blade composition resists UV light and harsh environmental conditions to remain flexible and provide an exceptionally long service life.
Continental Commercial Vehicles & Aftermarket is a leading and trusted aftermarket supplier of OE-engineered aftermarket parts for HVAC and engine cooling, door systems, brake systems, tire pressure monitoring systems, engine management, fuel systems, instrumentation, and windshield wipers.
For more information, go to: www.Continental-ClearContact.com
or contact: salessupport-us@continental-corporation.com
Continental develops pioneering technologies and services for sustainable and connected mobility of people and their goods. Founded in 1871, the technology company offers safe, efficient, intelligent, and affordable solutions for vehicles, machines, traffic, and transportation. In 2018, Continental generated preliminary sales of around €44.4 billion and currently employs more than 244,000 people in 60 countries and markets.
Information management in and beyond the vehicle is at the very heart of the Interior division. The product portfolio for different types of vehicles includes: instrument clusters, multifunctional and head-up displays, control units, access control and tire-information systems, radios, infotainment systems, input devices, control panels, climate control units, software, cockpits as well as services and solutions for telematics and Intelligent Transportation Systems. The Interior division employs around 48,000 people worldwide and generated sales of €9.7 billion in 2018.
Within the Interior Division the Commercial Vehicles & Aftermarket Business Unit accommodates the specific requirements of the commercial vehicle, special vehicle and aftermarket sector. A global network of sales and service companies ensures proximity to local customers. Covering the product brands Continental, VDO, ATE, Galfer and Barum the Business Unit offers web based managed services, fleet management and tachograph solutions electronic products, systems and services for commercial and special vehicles, a broad selection of products for specialized workshops and spare parts for the Independent Aftermarket and the Original Equipment Services after end of series production of the vehicle manufacturer.
Contact for journalists:
Anouré V. Fenstermaker
Marketing Communications Manager
Continental
Interior / Commercial Vehicles Aftermarket
6755 Snowdrift Road, Allentown, PA 18106
Tel: (484) 705-1909 , Fax: (610) 289-1766
Email: anoure.fenstermaker@continental-corporation.com
More from Electrical Equipment & Systems