New CHEM+POUR Bag Provides Smooth and Controlled Pour
Press Release Summary: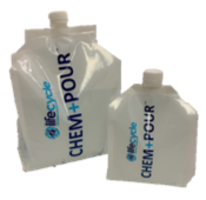 Supports the aseptic pouring and dispensing of chemicals, reagents and medias
Offers a safe alternative to glass for users
Provides an 84% reduction in waste upon disposal
---
Original Press Release:
Lifecycle Biotechnologies Launches Second Generation CHEM+POUR Bag
Lifecycle Biotechnologies, a leading life science tools and services supplier, has announced the launch of the second generation of its evolutionary CHEM+POUR Bag.
Fort Worth, Texas (PRWeb) October 01, 2019 -- The CHEM+POUR Bag was engineered to support the aseptic pouring and dispensing of chemicals, reagents, and medias and to be a more environmentally sustainable evolution to plastic or glass bottles.
"The second generation CHEM+POUR Bag is the culmination of years of experience and feedback from the original version we launched in September 2015," said Aaron Schieving, VP, Sales and Marketing for Lifecycle Biotechnologies. "We applied design thinking to the years of data collected on the original version and used it to make an all-around, more robust and more user-friendly package based on our customers needs."
Careful design went into ensuring the most optimal design to guarantee the upmost functionality of this packaging, all with the goal of providing a tool to maintain proper aseptic technique while providing a smoother, more controlled, pour. The second generation CHEM+POUR Bag provides the same benefits of the original version, such as…
Requires the same shelf space as a typical plastic or glass bottle,
Decompresses while pouring, eliminating splashing and glugs associated with bottles,
Aseptically designed for pouring without breaching the sterile field,
Provides a smoother, more controlled pour,
Provides a safer alternative to glass for users,
Holds any solutions, including acids and light sensitive ones,
Ability to right size the volume in any volume four liters or less to align with each user's specific process,
Provides an 84% reduction in waste upon disposal as compared to bottles;
but now comes with the addition of a few new features including…
Redesigned to improve structure integrity to the gussets and fitments,
Viewing windows with reference lines added to the sides to provide a better understanding of the volume that has been dispensed,
Improved handle position to further enhance aseptic technic and ease of use,
Ability to provides a 100% reduction in waste as part of the Sustainable Lifecycle Recycling Program,
Supplementary components to support a multitude of applications in addition to pouring, such as septum caps, spike adaptors, luer to spike connectors, etc.
"Lifecycle's innovative CHEM+POUR Bags already provided an advanced option for aseptic pouring in laboratory and manufacturing settings," said Schieving. "By improving the design and usability with the new version, we are addressing the challenges our customers face to meet modern needs." Schieving notes that "Be Relevant" is a core company value; this is a clear demonstration of precisely that.
To learn more about the CHEM+POUR Bag and to have your chemicals, reagents, or medias filled in this evolved packaging, please contact Lifecycle Biotechnologies at info@lifecyclebio.com, 817.840.7855, or http://www.lifecyclebio.com.
Based in Ft. Worth, TX, Lifecycle Biotechnologies has served the life science industry for over 40 years. Lifecycle's products are the beginning of the lifecycle of the lifesaving and life-enhancing medical products used globally today. As a leading life sciences tools and service supplier, Lifecycle fully understands the critical role its products play in many of the world's leading pharmaceuticals, medical devices, biologics, cell- and tissue-based products and many other medical products. While Lifecycle's products aren't used to diagnose, treat, or cure patients, without their contribution, none of this would be possible.
Contact Information:
Aaron Schieving
Lifecycle Biotechnologies, LP
+1 9706859100
Related