New Calipri C15 Gap and Flush Measuring System Synchronizes Data Wirelessly in Real-Time
Press Release Summary: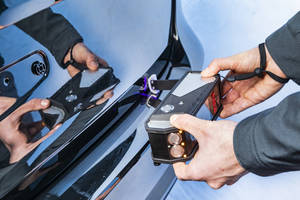 Available in Calipri C15 Flex and Fix variants that are designed for continuous use in automotive production
The embedded technology corrects tilting and twisting of the sensor for accurate results
Calipri C15 Fix unit is designed for line or audit station with separate visualisation monitor
---
Original Press Release:
Nextsense Presents Handheld In-Line Gap Measurement Device with HDR Function for the Automotive Industry
For the first time, a gap measurement device cleverly combines the advantages of a flexible handheld measurement device with those of an automated measuring system. The latest development from Nextsense is an easy-to-use and location-independent handheld measurement device that is optimised for continuous operation directly in the line and represents a cost-effective alternative to fully automated stationary solutions. According to the manufacturer, the new wireless system will be able to measure reflective, glossy and high-contrast surfaces reliably due to the unique use of HDR images. Renowned automobile manufacturers have already been able to successfully test the innovative measuring system before it is going to be presented to the public for the first time at Control 2019, the international trade fair for quality assurance.
Graz, 30th April 2019 – Nextsense, the Austrian specialist for laser-based profile measuring systems, is attracting attention with its latest product. Calipri C15 is a wireless, handheld gap and flush measuring system, which has been specially developed for continuous use in automotive production. Due to simplified sensor operation and an extra robust housing design, the measuring system is designed for the often high fluctuation on the assembly line as well as for a long service life. The new sensor generation is connected to the measurement computer via WiFi and can therefore be used flexibly in production. The unique Calipri® principle is used, a further development of laser light section technology for repeatable gap measurement. During the measuring process, the innovative technology corrects tilting and twisting of the sensor and thus ensures highly accurate results, completely independent of the user. The gap is completely captured from several perspectives by a short swivel movement with the sensor, thus avoiding extrapolation of the profile data. For the first time, the system also offers the possibility to capture high-contrast images. The sensor captures images with extended brightness levels in order to be able to measure glossy or reflective surfaces and black-and-white transitions even better. According to the manufacturer, this feature for measuring a wide variety of surfaces is an absolute novelty in gap and flush measurement. Immediately after the measurement, the results appear as measured values (gap, flush and radius) including classification, as well as profile line on the visualisation monitor. All data is synchronised wirelessly and in real time. By connecting to the customer's PLC or by optional barcode scanner, vehicle types are recognised and appropriate measuring plans are loaded automatically. The cross-platform Calipri measurement rules ensure that the results can be compared with other portable and robot-guided Calipri systems without complex correlation in order to detect deviations in the production process and derive appropriate measures.
Calipri C15 is available in two variants. Calipri C15 Flex is a mobile system that can be used alternately on several production lines. If a problem occurs unexpectedly in a line, the measurement device including hand trolley with computer and monitor can be moved quickly and easily from A to B, according to the manufacturer. In addition to the flexible design, Calipri C15 Fix is a stationary system for the line or audit station, which is equipped with a separate visualisation monitor and optimised for 100% measurements.
The Calipri C11 wired system variant is already being used successfully in many production halls of well-known automobile manufacturers all over the world. According to the manufacturer, more than 50 measuring systems of this type have already been put into operation so far. The new Calipri C15 systems are designed to meet the requirements of automobile manufacturers even better through wireless communication between sensor and computer and by generating images with a high dynamic range.
Calipri C15 will be on display and tested for the first time at Control, the international trade fair for quality assurance, in Stuttgart from 7th to 10th May in Hall 5 at the Hexagon booth.
About NEXTSENSE GmbH (April 2019)
With its unique CALIPRI® principle, NEXTSENSE is a world leader in mobile profile measurement and surface inspection, especially in the fields of wear measurement of train & rail, gap and flush measurement in the automotive industry and in the measurement of hot metal profiles. Its customers include all major railway companies, numerous well-known international automobile manufacturers and major steel producers, including Deutsche Bahn, SNCF, China Railways, Daimler, JLR, Audi, BMW, voestalpine and ArcelorMittal. NEXTSENSE was founded in 2007 as a spin-off of the Austrian research company Joanneum Research. With 90 employees, over 40 sales partners, sales & service center in Atlanta (US) and Shanghai (China), the high-tech company is represented all over the world. The company's turnover for 2018 amounted to 16.7 MEUR with an export quota of 95%. Since May 2018 Nextsense is part of Hexagon AB, a leading global provider of information technologies.
NEXTSENSE GmbH
Straßganger Straße 295
8053 Graz, AUSTRIA
Tel. +43 316 23 24 00 - 0
Fax +43 316 23 24 00 - 599
NEXTSENSE Inc.
3350 Riverwood Parkway, Suite 1900
Atlanta, GA 30339, UNITED STATES
Tel. +1 404 409 5059
www.nextsense-worldwide.com