Cable, Pipe and Rebar Locators
New Cable & Pipe Locator Wins 2013 EC&M Product of the Year Award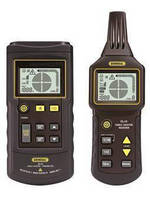 New York, NY - The growing line of electrical instruments from General Tools & Instruments (General®) is already garnering attention and recognition. The company's new Cable & Pipe Locator (CL10) is a 2013 EC&M Product of the Year award winner.



Established in 2000 by Electrical Construction & Maintenance magazine, the EC&M Product of the Year competition honors excellence in new product development in the electrical industry. The awards program showcases the most inventive and effective products, recognizing the talent and dedication of those involved with every aspect of development.



This year, a panel of 12 judges randomly selected from a pool of EC&M's subscribers-including electrical professionals representing the design/engineering, contracting, and facilities/maintenance industries-reviewed and voted on 160 entries. The judges scored each entry based on innovation as well as the ability to save end-users time and enhance productivity, and determined General's Cable & Pipe Locator (CL10) to be the winner in the Portable Test & Locate Equipment category.



"This Year's EC&M Product of the Year competition attracted a record-setting number of entries," says Editor-in-Chief Mike Eby. "Now more than ever, the manufacturing community is developing innovative products and solutions that operate more efficiently and improve worker efficiency. Our publication is honored to help recognize the talent and commitment of the people and organizations involved in the development of new products for the electrical industry."



General's Cable & Pipe Locator (CL10) and the other category award winners were featured in a supplement accompanying the March 2013 issue of EC&M magazine. All award winners are now competing for the 2013 Platinum, Gold, and Silver awards, which will be determined by EC&M subscribers via online voting at http://ecmweb.com/2013-product-year-competition-0.



"The Cable & Pipe Locator is designed to offer contractors an innovative and efficient solution that saves them time and money on the job," says General's VP of Strategic Marketing Peter Harper. "It's so rewarding to have real-life electrical professionals validate the system's ingenuity, purpose and value with this award."



General's Cable & Pipe Locator (CL10) arms electricians, contractors, remodelers, homeowners and others with information that allows them to identify and trace electrical cables and metallic, water, gas or drain pipes without ripping walls apart or trying to track down and analyze construction drawings, saving time and money. It quickly pinpoints the location of electrical cables and metallic water, gas or drain pipes by revealing infrastructure up to 6.6 ft. (2m) behind walls, above ceilings or under floors. It also allows users to easily trace circuits, identify a circuit's breaker, detect open- and short-circuits, find outlets covered by plaster and safely break through walls. The CL10 transmitter and receiver communicate on any of eight channels and display readings on a big, bright graphic LCD. Both units also include an integral flashlight for illuminating dark areas. Used with a metal rod, the system also can locate blockages and constrictions in plastic pipes.



About General Tools & Instruments

Headquartered in New York City since 1922, General Tools & Instruments remains the market leader in precision specialty hand tools. Recent product advancements and corporate acquisitions have expanded General's line to include over 1,500 precision tools and hand-held instruments. This vast array of products is widely used by contractors, professionals, technicians, DIYers and hobbyists in a broad range of industries. To learn more about General Tools & Instruments and its products, visit www.generaltools.com or call Customer Support at 1-800-697-8665.



CONTACTS:

Sue Minichiello,

Senior PR Associate,

SpaceAge Media Consultants,

617-783-2700,

sue@spaceage-media.com



Peter Harper

VP Strategic Marketing,

General Tools & Instruments

80 White Street

New York, NY 10013-3567

USA; Phone: 212-431-6100 x267

Fax: 212-431-6499

Email: p.harper@generaltools.com.

More from Packaging Products & Equipment