New Buck Converter Evaluation Board Features Universal GaN Half-Bridge with Open Loop Control
Press Release Summary: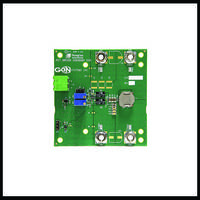 Richardson's GS61008P-EVBHF Buck Converter Evaluation Board is embedded with GS61008P E-Mode GaN transistor and a PE29101 gate driver. The board is used to evaluate GaN systems and is suitable for applications such as DC–DC conversion, AC–DC conversion, wireless power charging, and LiDAR. Having switching times of less than 1 ns, PE29101 driver is capable of up to 40 MHz. Unit comes with 100 V / 90 A, 7 mΩ ratings.
---
Original Press Release:
Richardson RFPD Introduces GaN Systems' New High-Performance Buck Converter Evaluation Board with Integrated pSemi High-Speed Driver
Collaboration between GaN Systems and pSemi is designed for optimal performance at high switching speeds and offers shorter time-to-market
June 5, 2018 – Geneva, Ill.: Richardson RFPD, Inc. announced today the availability and full design support capabilities for a new evaluation board from GaN Systems Inc. and pSemi Corporation.
The GS61008P-EVBHF 100 V buck converter evaluation board allows the user to evaluate GaN Systems' 100 V GS61008P E-Mode GaN transistor with the pSemi PE29101 gate driver in a half-bridge configuration. The PE29101 integrated high-speed driver is designed to control the gates of GaN Systems' E-HEMTs. The outputs of the PE29101 can provide switching transition speeds in the sub-nanosecond range.
The new evaluation board's high switching speeds enables smaller peripheral components in a variety of applications, including DC–DC conversion, AC–DC conversion, wireless power charging, and LiDAR.
Additional key features of the GS61008P-EVBHF include:
Universal GaN half-bridge with open loop control
Ultra-fast switching times: < 1 ns
Dead-time control, independent of Vcc
100 V / 90 A, 7 mΩ GaN E-HEMTs
High-speed GaN driver, capable of 40 MHz
To find more information, or to purchase this product today online, please visit the GS61008P-EVBHF webpage. The evaluation board is also available by calling 1-800-737-6937 (within North America); or please find a local sales engineer (worldwide) at Local Sales Support. To learn about additional products from GaN Systems, please visit the GaN Systems storefront webpage. 
To learn about additional products from pSemi, please visit the pSemi storefront webpage.
About Richardson RFPD
Richardson RFPD, an Arrow Electronics company, is a global leader in the RF, wireless, IoT and power technologies markets. It brings relationships with many of the industry's top radio frequency and power component suppliers. Whether it's designing components or engineering complete solutions, Richardson RFPD's worldwide design centers and technical sales team provide comprehensive support for customers' go-to-market strategy, from prototype to production. More information is available online at www.richardsonrfpd.com.
Follow Richardson RFPD on Twitter at www.twitter.com/Richardson_RFPD. To subscribe to Richardson RFPD's New Products e-newsletter, visit www.richardsonrfpd.com/subscribe.
FOR DETAILS CONTACT
Dave Rossdeutcher
Global Product Management Director – Energy & Power
drossdeutcher@richardsonrfpd.com
P 630 262 6800
More from Material Handling & Storage