New Blown-Ion Plasma Surface Treaters Use Positive Ion Bombardment Method
Press Release Summary: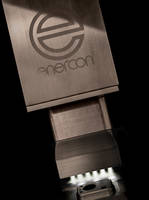 Enercon's Blown-Ion™ Plasma Surface Treaters come with Multiport™ plasma design that improves adhesion of adhesives, inks, paints and coating by cleaning etching and functionalizing surfaces. Unit bombards a material surface with high speed discharge of ions by generating concentrated discharge. The bombardment of positive ion facilitates micro-etching or scrubbing effect that removes organic and inorganic contaminants. Blown-Ion™ is used in replacing hazardous primers.
---
Original Press Release:
Enercon Introduces New Plasma Surface Treating Technology Providing Higher and More Consistent Treatment Levels for Wider Applications
Menomonee Falls, WI – Enercon has added on to its Blown-ion™ Plasma Technology Series with a new surface treater that expands the industry's capabilities for intense plasma for wider applications at higher speeds. The new plasma technology features a Multiport™ plasma design, which cleans, etches and functionalizes surfaces to improve adhesion of adhesives, inks, paints and coatings.
Enercon's Blown-ion™ Plasma surface treaters generate a concentrated discharge that bombards a material surface with a high-speed discharge of ions. Positive ion bombardment facilitates a micro-etching or scrubbing (ablation) effect which can remove organic and inorganic contaminants from the surface of an object.
"This is a major step forward in bringing the benefits of Blown-ion™ technology to applications that require wider treatment than traditional plasma systems," says VP Sales Ryan Schuelke. The powerful treatment technology is effective on all types of plastics and metals, and is designed for high-speed applications where surface pretreatment is required to promote adhesion.
Enercon's Blown-ion™ Plasma technology is often used to replace expensive and hazardous primers as well as inefficient mechanical and manual surface preparation techniques.
Enercon Industries Corporation, headquartered in Menomonee Falls, WI, is a major manufacturer of equipment for the plastics, converting and packaging industries. The company supplies custom built corona and atmospheric plasma treating systems, as well as induction cap sealing systems.
Enercon Industries Corporation
Contact:
Mark Plantier, VP Marketing
262-250-6070, mplantier@enerconmail.com