New BELSIL® Eco Silicone Fluids Use Certified Biomethanol Made from Plant Residue
Press Release Summary: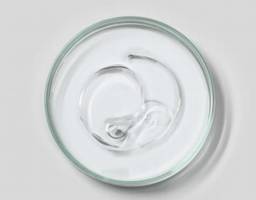 WACKER's BELSIL® eco Silicone Fluids offer viscosity ranging from 5 and 60,000 centistokes. The fluids are used in formulation of moisturizing creams, lotions, sunscreens, shampoos and conditioners. BELSIL® eco fluids are linear unmodified polydimethylsiloxanes that feature low surface tension.
---
Original Press Release:
WACKER Presents BELSIL® Eco – Silicone Fluids Made from Non-Fossil Raw Materials for the Cosmetics Industry
Munich, April 12, 2018 – Munich-based chemicals company WACKER will premiére BELSIL® eco at this year's in-cosmetics Global in Amsterdam. The designation "eco" means that the company only uses renewable raw materials and silicon in the production of its silicone fluids for cosmetic applications known by the brand name BELSIL® . WACKER is currently the only manufacturer in the world offering this kind of product. Though BELSIL® eco products have the same properties as silicone fluids made with petroleum-derived raw materials, they have a more favorable carbon balance. In-cosmetics Global takes place in the Netherlands from April 17 to 19.
The BELSIL® eco range currently comprises six silicone fluids. They are linear, unmodified polydimethylsiloxanes (dimethicones), which are distinguished by their low surface tension and good spreading properties. These products cover a particularly crucial viscosity range in cosmetics between 5 and 60,000 centistokes (mm2 /s) and are therefore suitable for the formulation of moisturizing creams, lotions, sunscreens, shampoos, conditioners and other cosmetic preparations.
For every BELSIL® eco product there also exists a silicone fluid based on petroleum-derived methanol. Chemically speaking, both products have the same raw material base. This means that there is no problem in replacing conventional silicone fluids with their corresponding BELSIL® eco products. Technical modifications or recipe or formulation adjustments are not required.
"The demand for cosmetic products which are made from raw materials that conserve our natural resources continues to rise," emphasizes Dr. Robert Gnann, President of WACKER SILICONES. "With our new product line we are in an excellent position to meet this demand. For BELSIL® eco, we use certified biomethanol produced exclusively from plant residue such as straw or grass cuttings."
As biomethanol is exclusively made from renewable raw materials, the carbon balance of BELSIL® eco products is more favorable than that of petroleum-based silicone fluids. According to WACKER's calculations, around 1.6 metric tons of carbon dioxide can be saved per metric ton of biobased silicone fluid. Gnann: "With BELSIL® eco we are not only strengthening the sustainability of our own product portfolio. The cosmetics industry can also benefit considerably from silicone products made using biomethanol and conserving resources."
WACKER uses both petroleum-derived methanol and biomethanol. A certified mass balance procedure helps to calculate and determine the share of products sourced from biomethanol. As a result, WACKER can ensure that all BELSIL® eco products are manufactured from 100 percent plant-based and therefore resource saving raw materials. The procedure is certified according to the TÜV SÜD Standard CMS 71 and is checked every year by external evaluators.
Additional information on BELSIL® eco can be found at www.wacker.com/belsileco.
WACKER is premiéring its new BELSIL® eco range at this year's incosmetics in Amsterdam. The designation "eco" means that the company only uses renewable raw materials and silicon in the production of its silicone fluids for cosmetic applications known by the BELSIL® brand. BELSIL® eco products have a more favorable carbon balance than silicone fluids produced using petroleum-derived methanol. (Photo: WACKER)
For further information, please contact:
Wacker Chemie AG
Media Relations & Information
Florian Degenhart
Tel. +49 89 6279-1601
florian.degenhart@wacker.com
www.wacker.com
More from Material Processing