New BaseLynx System from SCOSCHE Industries Charges Multiple Consumer Devices
Press Release Summary: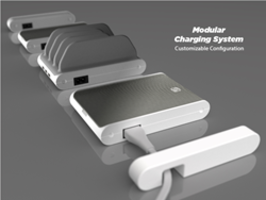 SCOSCHE Industries' new BaseLynx System is a modular device charging and organizing product for consumers. The system, which is consists of multiple units that can be added, subtracted, or rearranged, but is powered by a single cord, is capable of charging phones, Apple Watches, and tablets, and is also capable of supporting fast charging. BaseLynx also includes foreign object detection to keep devices that are not Qi enabled from charging and a smart chip which protects against surges, short circuits, overheating, and under or over voltage.
---
Original Press Release:
SCOSCHE® Industries' New BaseLynx™ System Charges Devices and Keeps Them Organized
Scosche developed an elegant solution to the challenge of keeping multiple and diverse devices charged and organized, with its new BaseLynx™ system.
LAS VEGAS (PRWEB) JANUARY 09, 2019
SCOSCHE® Industries (pronounced skōsh/skohsh), innovators of award-winning consumer technology, powersports and car audio products and accessories, developed an elegant solution to the challenge of keeping multiple and diverse devices charged and organized, with its new BaseLynx™ system.
Getting (and staying) organized and always having a charged and ready-to-go device must be high on the list of daily needs for many busy people. With that thought in mind, Scosche combined its wireless charging expertise with a multi-device organizer. It is customizable to work in multiple settings, such as home, office, or dorm. The modules, when connected, are powered by a single power cable, simplifying life even further. And that's how BaseLynx was born, from a combination of necessity, creative design and engineering.
BaseLynx accommodates wired and wireless charging of different devices including: phones, tablets, Apple watches and more. Charging elements include: 
Qi wireless fast charging dock.
Apple Watch charging dock which utilizes the proprietary magnetic charging device provided with the Apple Watch.
Vertical power station that holds and charges up to three devices (including: smartphones tablets, handheld gaming devices and more) and contains two 12W USB-A outlets and one 18W USB-C Power Delivery outlet.
Powered end cap with a perfectly matching clean finish, additional 12V USB-A and 18W USB-C PD outlets, as well as a power indicator light. USB-C PD is Apple and Samsung Fast Charge compatible.
Each charging dock comes with its own AC power cord and two end caps to allow its use as an individual standalone unit.
The wireless charging modules of the BaseLynx are Qi-certified by the Wireless Power Consortium and deliver up to 10W of wireless charging power, supporting Apple and Samsung Fast Charge. Advanced safety features include Foreign Object Detection, which prevents charging if something other than a Qi-enabled device is placed on the charging surface. The BaseLynx is also engineered with a smart chip to prevent over- or under-voltage, overheating, surge or short-circuiting.
Its designed to meet current organizational and charging needs, as well as providing the flexibility to add, subtract, and rearrange elements to suit future needs. Scosche anticipates adding new elements to the BaseLynx system to offer even more options.
The BaseLynx system will be available Spring 2019.
Follow us on: Instagram (@scoscheinc) and @scosche on Twitter, Facebook, GOOGLE+, Pinterest and LinkedIn for the latest news on all of the company's award-winning consumer tech and car audio products and accessories. And visit our company Press Room on Scosche.com.
About SCOSCHE: 
Founded in 1980, SCOSCHE Industries is an award-winning innovator of consumer technology and car audio products – committed to delivering superior product quality and functionality, exceptional value and unmatched customer service. The designers and engineers at SCOSCHE develop products that reflect a rich heritage in audio and mobile technologies. SCOSCHE finds inspiration in the California lifestyle, culture, music and people. These influences can be seen in the accessories and products that are now in the hands, homes, offices and vehicles of people in over 50 countries. With over 400 patents/trademarks and countless industry awards received, it is easy to see why SCOSCHE is consistently at the forefront of technology and innovation. http://www.scosche.com
More from Communication Systems & Equipment