New B1K Synthetic Baseball System is Closest to Natural Grass
Press Release Summary: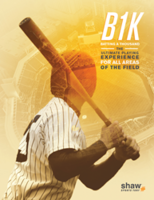 Consists of Strenexe® XD slit film and Bolt® monofilament
Features Geofill (infill) made from coconut husks and fibers
Geofill feels and plays like dirt with enhanced cooling benefits and water saving
---
Original Press Release:
B1K: Batting A Thousand Ushers in a New Generation of Synthetic Baseball Turf
New synthetic baseball system available from Shaw Sports Turf in 2019
CALHOUN, GA. (PRWEB) APRIL 01, 2019 - Shaw Sports Turf has announced the launch of their revolutionary new baseball system B1K: Batting a Thousand designed for the game's specific needs. From the grass to the basepaths and from the mound to the plate, each area of the field has different playability characteristics. Shaw Sports Turf's research and development team set out to not only understand those characteristics and how to build a system to meet them, but also to create the ideal playing surface for the sport overall.
Shaw Sports Turf is the only company with years of research dedicated to collecting data specific to baseball resulting in the all-new B1K system. Working with their university research partners, Shaw Sports Turf was able to study the playability of the surface as well as the athlete's interaction with it. Playing on a surface tailored for baseball creates a more consistent ball bounce allowing players to react more naturally when fielding hits. A firmer and more accurate surface also minimizes fatigue and soreness providing less energy rebound and less leg stiffness.
"This is the closest system to natural grass that I've ever measured. It required us to understand the playability of a high-end natural baseball field in a great amount of depth. How the surface metrics can be dialed by different system components and how to get the ideal ball bounce and pace. It also required us to understand how the surface metrics affected the players - predictability, posture, aggressiveness in fielding. We are honored and humbled to be trusted by DBacks and Rangers organizations to develop a turf system that plays true" said Philipe Aldahir, Director of Research for Shaw Sports Turf.
B1K is a dual fiber system comprised of Shaw's high-performance Strenexe® XD slit film and Shaw's Bolt® monofilament. The B1K natural system features Geofill, an all-natural infill made from coconut husks and fibers. This natural alternative infill feels and plays like dirt with added cooling benefits and water savings. The all-new B1K system is already installed at Chase Field, home of the Arizona Diamondbacks and is scheduled to be installed at Globe Life Field, the Texas Rangers' new facility.
A wholly-owned subsidiary of Berkshire Hathaway Inc., Shaw Industries is a full flooring provider to the residential and commercial markets. Shaw supplies carpet, hardwood, laminate, resilient, and tile/stone flooring products, as well as synthetic turf. Shaw Sports Turf is one of the leading synthetic turf companies in North America and has represented quality and innovation for more than two decades with over 3,000 successful installations, including an impressive list of high-profile field installations.
Contact Information
Candice Hall and Paul Woodham
Shaw Sports Turf
7068793535
More from Mechanical Power Transmission