New AXW Large AC Motors for Harsh and Contaminate Filled Environments
Press Release Summary: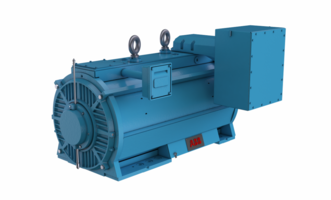 AXW 5000 and 5800 motors are available with IP56 rating for protection against contaminants and dust ingress
Suitable for continuous operations due to consistent cooling of water jacket surrounding the motor
Advantages include high power densities, small overall footprint size as well as reduction of noise and heat in surrounding environment
---
Original Press Release:
ABB's New AXW Large AC Motors Offer Power-Dense, Water Cooled Design for Hazardous Locations
The AXW 5000 and 5800 Large AC motors deliver an average of 40 percent more power over conventional fan cooled designs.
ABB's AXW 5000 and 5800 motors offer more horsepower per pound than conventional totally enclosed fan cooled (TEFC) motors but with a smaller frame size. This helps save space, up to 8 inches in overall length in some cases, which enables more compact installations.
Advantages of AXW motors include higher power densities, smaller overall footprint size, reduction of noise, constant cooling on variable speed drive applications to extend speed and power ranges, and reductions of heat in the surrounding environment. For harsh, contaminate filled environments, the AXW is perfectly suited for continuous operation, due to the consistent cooling of the water jacket surrounding the motor.
"The new cooling configuration offers a more power-dense motor," says Charles Blankenship, Large AC Motor Product Manager, ABB. "Water cooling reduces the motor size and allows for smaller motor package sizes, and higher efficiencies due to the removal of the external fan."
The main terminal box and auxiliary box can be mounted in several positions to ensure installation and maintenance are easy. This also means fewer spares are needed, which saves money. The rigid frame design increases stability so that the motor has very low vibrations and can meet stringent vibration limit specifications.
AXW motors also have the same features currently used on the AXR family of motors. These motors are available with up to an IP56 rating for protection against contaminants and dust ingress.
ABB (NYSE: ABB) is a pioneering technology leader with a comprehensive offering for digital industries. With a history of innovation spanning more than 130 years, ABB is today a leader in digital industries with four customer-focused, globally leading businesses: Electrification, Industrial Automation, Motion, and Robotics & Discrete Automation, supported by its common ABB Ability™ digital platform. ABB's market leading Power Grids business will be divested to Hitachi in 2020. ABB operates in more than 100 countries with about 147,000 employees.
ABB Motion keeps the world turning, while saving energy every day. Our pioneering drives, motors, generators, mechanical power transmission products and integrated digital powertrain solutions are driving the low-carbon future for industries, cities, infrastructure and transportation. Through our global presence we are always close to our customers. We help them optimize energy efficiency, improve safety and reliability and achieve precise control of their applications. www.abb.com/motors  www.abb.com/drives
For More information, Please Contact:
Media Relations
Tracy Long
Phone: + 1 479 648 5769
Email: tracy.long@us.abb.com
Related