New Automotive-Grade MLCCs Meet AEC-Q200 Standards
Press Release Summary: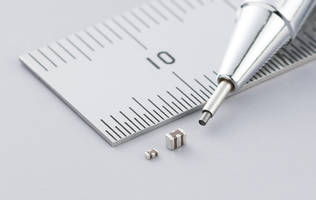 Exhibits low levels of equivalent series inductance (ESL) and provide 1 μF capacitance
Utilize thin-layer technology, high-precision lamination and advanced electrode construction
Support -55°C to +125°C operational temperature range and have 2 A current rating
---
Original Press Release:
Murata Sets New Benchmarks in Compactness and Capacitance with Latest Automotive-Grade MLCCs
Hoofddorp, Netherlands: Murata has now begun volume production of two new multi-layer ceramic capacitors (MLCCs). Each of these components exhibits low levels of equivalent series inductance (ESL) and is targeted at automotive implementation. Supplied in a 0402 format (with 1.0 mm x 0.5 mm dimensions) and providing a 1 μF capacitance, the NFM15HC105D0G3 is the world's smallest three-terminal low-ESL MLCC. This is complemented by the NFM18HC106D0G3, which has a 10 μF capacitance, making it the highest capacity three-terminal low-ESL MLCC in a 0603 (1.6 mm x 0.8 mm) form factor.
The amount of electronic content being incorporated into automobile designs is rising dramatically, as advanced driver assistance system (ADAS) implementations become more commonplace and higher levels of vehicle autonomy start to develop. This is resulting in the utilization of a greater number of electronic control units (ECUs) and the ramping up of processing resources which in turn need next-generation MLCCs to accompany them. These components must combine elevated capacitance figures and superior ESL characteristics with compact size and strong reliability, so that both performance demands and board space limitations can be met accordingly.
The new MLCCs utilize Murata's own proprietary thin-layer technology, as well the company's expertise in high-precision lamination and advanced electrode construction. As a consequence, the NFM15HC105D0G3 occupies a volume that is as much as 60% smaller than competing MLCCs on the market. Likewise, the NFM18HC106D0G3 has a capacitance that is approximately ten times higher than many MLCCs of a similar size. Fully compliant with AEC-Q200 standards, these components support an -55°C to +125°C operational temperature range. Both have a 2 A current rating.
For further information and reader enquiries:
Dunya Kamil, Murata Electronics Europe B.V., Wegalaan 2, 2132 JC, Hoofddorp, The Netherlands
Tel: +31 (0) 23 56 98 456 E-mail: dkamil@murata.com
Fax: +31 (0) 23 56 98 361 Web: www.murata.com
Agency contact:
Rachel Sandeman, Publitek Limited, 18 Brock Street, Bath, BA1 2LW, United Kingdom
Tel: +44 (0) 7738682833 E-mail: rachel.sandeman@publitek.com Web: www.publitek.com
About Murata
Murata is a leading manufacturer of electronic components, modules, and devices. The complete range includes ceramic capacitors, resistors/thermistors, inductors/chokes, timing devices, buzzers, sensors and EMI suppression filters. Whilst the company is known as a global ceramic capacitor manufacturer, it is also a world leader in Bluetooth® & WiFi™ Modules, board-mount DC-DC converters and is a key manufacturer of standard and custom AC-DC power supplies.
Established in 1944, Murata is headquartered in Japan and has European offices in Finland, France, Germany, Hungary, Italy, the Netherlands, Spain, Switzerland and the UK.
For more information on Murata, please visit: www.murata.com
Twitter: @MurataEurope
LinkedIn: http://www.linkedin.com/company/murata-electronics
Facebook: http://www.facebook.com/MurataElectronics
More from Electrical Equipment & Systems