New AutoGrip Clamp Comes with Electro-Mechanical Actuation
Press Release Summary: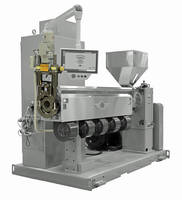 Available for extruder sizes of 3.5 in. (90 mm.) through 6 in. (150 mm.)
Can be remotely operated from safe distance by two-hand pushbutton controller
Reduces downtime in installations with frequent screw, breaker plate, or tooling changes
---
Original Press Release:
Safe and Simple Power Clamp for Extrusion Makes Changeovers Faster, Eliminating Risks Posed by Manual Operation
New AutoGrip® Electro-Mechanical Clamp from Graham Engineering Can Be Operated from a Safe Distance by Means of a Two-Hand Pushbutton Controller
YORK, PA, U.S.A., May 14, 2020: A new extrusion clamp with electro-mechanical actuation is safer and simpler to operate than manual devices and provides more repeatable clamping forces.
The AutoGrip® power clamp from Graham Engineering's American Kuhne product line reduces downtime in installations with frequent screw, breaker plate, or tooling changes. It reduces the risk of injury or burns involved in manually releasing and tightening clamps during changeovers. The torque required in manual systems to sufficiently seal the clamp assembly is particularly dangerous with large extruder sizes. In addition, the manual clamps are typically heated to temperatures of greater than 400 °F (200 °C), increasing the risk of injury with traditional manual systems.
The AutoGrip clamp is remotely controlled by a two-hand pushbutton controller for user safety and convenience. The drive motor and gear box are mounted above the clamp, protecting them from melt residue and making them easy to access for maintenance.
"We have engineered the AutoGrip system with simplicity and safety in mind," said Michael Duff, Vice President of Sales and Service for Graham Engineering Corporation. "While manual clamps are difficult to operate and inherently dangerous, this new automatic system from Graham Engineering speeds up changeovers and is easy to maintain."
The AutoGrip power clamp is available for extruder sizes of 3.5 in. (90 mm) through 6 in. (150 mm). In addition to applications involving new extruders, it can be retrofitted on many existing installations.
Graham Engineering Corporation is a privately held company headquartered in York, Pennsylvania, USA. The company's key businesses include:
Graham Engineering, a global supplier of wheel and industrial extrusion blow molding systems, offering package design, product development and processing expertise, along with monolayer, multilayer, and barrier extrusion blow molding equipment. Visit www.grahamengineering.com.
American Kuhne a provider of extrusion technologies for plastics, rubber, and silicones. American Kuhne offers standard and custom single screw extruders, feed screws, extrusion systems, and specialized turnkey systems for laboratory, medical tubing, narrow web, wire and cable, pipe, tubing, and profile applications. Visit www.americankuhne.com.
Welex is the global standard in high performance sheet extrusion solutions, with over four decades of leadership. Welex solutions are installed in more than 3,000 customer locations in 69 countries. The company's innovations include co-extrusion and multi-layer methods that lead the industry as well as dozens of barrier lines installed globally. Visit www.welex.com.
Press Contact:
Robert J. Martino
Martino Communications
1-203-321-0787
bob@martinocommunications.com
More from Mechanical Components and Assemblies