New Asset Management Software Helps Balance Costs, Risk and Performance
Press Release Summary: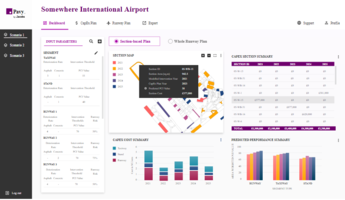 Enables airports to make more strategic decisions on pavement investment
Offers client decision support and contribute in future airfield pavement planning
Can better plan pavement investments and prioritize critical interventions
---
Original Press Release:
Jacobs Launches Cloud-based Platform to Improve Asset Management of Airfields
DALLAS, Nov. 23, 2020 /PRNewswire/ -- Jacobs (NYSE:J) has developed a new proprietary cloud-based platform that enables effective asset management of airfields. After a successful trial period with airports around the world, https://pavy.io/ Pavy is being launched to reinvent the way airports manage airfield pavements.
Airfield pavements are complex and extensive, and understanding how they perform is key to planning investment. Now more than ever, with the need to adapt to COVID-19 impacts, airport operators are looking for smarter ways to make strategic, cost-efficient decisions about their most important airfield assets. Built on the insight and experience of a network of aviation and asset management professionals at Jacobs, Pavy is a customizable platform that puts the airport in control, enabling strategic, data-led decisions about airfield investment.
The asset management principles behind Pavy were originally conceived when Heathrow Airport, one of the world's busiest airports, commissioned a team of Jacobs specialists to create a solution to manage its 4 million square meters of airfield pavement.
"We work every day to tackle our clients' toughest challenges, and airfield asset management is a recurring issue in the aviation industry; even more so now, as operators look for more agile ways to manage their operations effectively in response to COVID-19," said Jacobs People & Places Solutions Senior Vice President Europe and Digital Strategies Donald Morrison. "With Pavy, our new cloud-based platform, airports around the globe can better plan pavement investments and prioritize critical interventions."
"The Pavy Solution developed by Jacobs, was born from the Asset Management principles conceived by Heathrow Airport Limited," said Heathrow Airport Senior Engineer Louise Batts. "Jacobs has embraced these principles to create a clear visual platform, utilizing some of the functionality from Heathrow's Decision Support Tool and making it applicable to all airports, whatever their size."
Batts continued: "Pavy, along with Jacobs' consultation support, aims to provide optimized CapEx spend profiles, client decision support and contribute in future airfield pavement planning. Immediate feedback and basic scenario forecasting combined with visual plans, gives Pavy an opportunity to change the field of Airfield Pavement Asset Management. The work Jacobs has done here, and the future of Pavy is really exciting."
Pavy enables airports to harness the power of their data to build stronger business cases for additional funding requests. By showing where investment will be needed over 5-year periods, Pavy provides a strategic decision enabler by connecting engineering and finance teams to help balance costs, risk and performance. For more information about Pavy, watch the video or visit: https://pavy.io/ and follow us on LinkedIn.
At Jacobs, we're challenging today to reinvent tomorrow by solving the world's most critical problems for thriving cities, resilient environments, mission-critical outcomes, operational advancement, scientific discovery and cutting-edge manufacturing, turning abstract ideas into realities that transform the world for good. With $13 billion in revenue and a talent force of more than 55,000, Jacobs provides a full spectrum of professional services including consulting, technical, scientific and project delivery for the government and private sector. Visit jacobs.com and connect with Jacobs on Facebook, Instagram, LinkedIn and Twitter.
For press/media inquiries:
Kerrie Sparks_
214.583.8433
More from Communication Systems & Equipment