New ASEPCO AKS Series Actuators Come with Laser Etched Serial Numbers
Press Release Summary: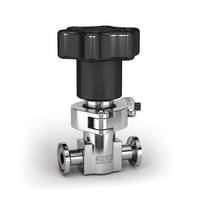 Watson-Marlow' ASEPCO AKS Series Actuators are designed for ASEPCO Weirless Radial Diaphragm™ in-line-valves. The units are offered with plastic body combined with stainless steel diaphragm interface that makes them suitable for biotechnology and pharmaceutical markets. The AKS actuators are compliant to GMP standards and the laser etched serial numbers provide full traceability.
---
Original Press Release:
Watson-Marlow Fluid Technology Group Announces New ASEPCO AKS Actuator Series
Simplifies installation and maintenance for process valve piping systems
Watson-Marlow Fluid Technology Group (WMFTG) announces an important innovation has been made to ASEPCO Weirless Radial Diaphragm™ in-line-valves; a new lightweight actuator combining a plastic body with stainless steel diaphragm interface designed specifically for the biotechnology and pharmaceutical market.
The new ASEPCO AKS actuator is reliable, durable, GMP compliant and requires fewer brackets or ancillaries for installation. With a hygienic design, the new actuators have laser-etched serial numbers for full traceability, are easy to operate and maintain, and carry a market-leading three year warranty.
ASEPCO Weirless Radial Diaphragm™ valves deliver consistency, while reducing maintenance time by up to 80%. Their unique construction, simple Tri-Clamp assembly and Weirless Radial diaphragm design makes them completely drainable and virtually eliminates the risk of contamination.
Our full range of in-line and tank valves are designed to provide reduced cost of ownership. Changing a diaphragm only takes seconds, making your valves simple to inspect, clean and use. www.wmftg.com
Watson-Marlow Fluid Technology Group (WMFTG) is the world leader in niche peristaltic and sinusoidal pumps, and associated fluid path technologies. Founded on nearly 60 years of supplying engineering and process expertise and with over one million pumps installed worldwide, our pumps are tried, tested and proven to deliver.
WMFTG is a wholly owned subsidiary of Spirax-Sarco Engineering plc (LSE: SPX), a global organisation employing approximately 4,800 people worldwide. Watson-Marlow Fluid Technology Group comprises ten established brands, each with their own area of expertise, but together offering our customers an unrivalled breadth of solutions for their pumping applications:
Watson-Marlow Pumps: peristaltic tube pumps for biotechnology and pharmaceutical and process industries
Watson-Marlow Tubing: precision tubing for pumping and other purposes, in a range of materials
Bredel: high flow, heavy duty hose pumps
Alitea: unique peristaltic solutions for OEM customers
Flexicon: aseptic filling and capping systems
MasoSine: gentle sinusoidal pumps for food, chemical and cosmetics applications
BioPure: advanced single-use tubing connector systems
ASEPCO: Aseptic valves for the biotechnology and pharmaceutical industry
FlowSmart: high purity sanitary gaskets, silicone transfer tubing and reinforced silicone hoses
Aflex Hose: specialises in the design and manufacture of PTFE-lined flexible hoses
Watson-Marlow Fluid Technology Group is an international operation based in Falmouth, Cornwall, UK. Watson-Marlow Fluid |Technology Group has offices in Argentina, Australia, Austria, Belgium, Brazil, Chile, China, Canada, Denmark, France, Germany, Ireland, India, Indonesia, Italy, Japan, South Korea, Malaysia, Mexico, the Netherlands, New Zealand, Poland, Russia, Sharjah UAE, Singapore, South Africa, Sweden, Switzerland, Taiwan, Thailand, USA and Vietnam.
Contact: 
Kristin Nugent
McNeil, Gray & Rice
617-367-0100 Ext. 148
More from Sensors, Monitors & Transducers