New ARI-400 Series Storage Units Allow Mixing and Matching of Multiple Disk Capacities
Press Release Summary: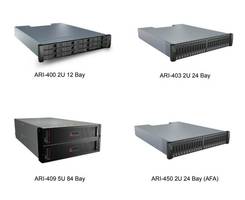 ARI-400 Series Storage Devices are available in three form factors such as 2U 12 bay 3.5 in., a 2U 24 bay 2.5 in. and a 5U 84 bay 3.5 in. Units can be used for IOP intensive applications for 650,000 IOPs per second output. For hybrid or flash solutions, 3.5 in. chassis accommodates 2.5 in. 10K- SAS and SSD media. 5U 84 bay unit can be expanded up to 336 drives or 4+PB with the use of 12TB drives.
---
Original Press Release:
RAID Inc. Releases ARI-400 Series
ANDOVER, MASS. (PRWEB) APRIL 10, 2018
RAID Incorporated, the leader in providing custom storage systems that help organizations deliver the best time to results, is proud to announce the release of its ARI-400 Series. The newest release features declustered RAID, which allows for mixing and matching of multiple disk capacities and greatly reduces rebuild times, a much welcomed technology as larger disks continue to be released into the market.
Performance gains are also significant with the new release as the dual controller system can sustain up to 7GB/sec on reads and up to 5GB/sec on writes for very demanding user workloads. For IOP intensive applications, configurations can also be configured as hybrid or flash arrays to achieve up to 650,000 IOPs per second.
The product line comes in three form factor sizes that can be mixed and matched, including a 2U 12 bay 3.5", a 2U 24 bay 2.5" and a 5U 84 bay 3.5". The 3.5" chassis also accommodates 2.5" 10K- SAS and SSD media for hybrid or all flash solutions. Using 12TB drives, a 5U 84 bay product can expand up to 336 drives or 4+PB in a 20U standard size rack. In addition, the 5U 84 bay without controllers will spin off to RAID's Ability JBOD line to give customers the flexibility of using the product for software, cloud and archive based applications.
"RAID is excited to expand our ARI product to the market since first showcasing the product line at SC17 in November. We believe that the price point to performance will be very attractive for our current and future customers. It is compact, delivers impressive performance and gives a ton of flexibility for traditional, hybrid, and all flash arrays," stated Marc DiZoglio, President of RAID, Inc.
"We're excited to offer a versatile array that meets the demand of our data intensive, IOPs hungry, bandwidth driven applications across many of our market segments," added Jad Ramey, Vice President of RAID, Inc.
To learn more about the ARI-400 Series, please visit our website.
About RAID Incorporated: As complex scientific research and Big Data challenges in all areas of R&D grow and increase in complexity, RAID, Inc. has the history and experience as a trusted partner to help customers in all verticals meet these challenges. Since 1994, we have accumulated extensive industry knowledge and developed key business relationships in academia, research laboratories, government, and commercial sectors. Using a time-tested vendor agnostic process, we partner with customers to understand unique challenges and then create custom solutions that accelerate time to results, seamlessly integrating into existing infrastructure.
Related