New Anybus Communicators Powered by NP40 Industrial Network Processor
Press Release Summary: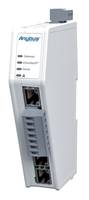 Supports up to 150 modbus commands which allows complex configurations with multiple nodes
Equipped with a security chip as well as supports temperature range of -25 to +70°C
Packaged in attractive slim housing for straight-forward DIN-rail mounting
---
Original Press Release:
HMS Unveils The Second Generation Anybus Communicator – Connecting Devices and Machines into The Future
20 years after the original release, HMS Networks now announces its second-generation Anybus® Communicator™ – a line of high-performing gateways for connecting devices and machines to industrial networks. Anybus Communicator for EtherNet/IP is now available and versions covering additional networks will be released later in 2020 and 2021.
2nd generation Anybus Communicator - 20 years of HMS experience put in a powerful new package
On the market for almost 20 years, the Anybus Communicator line from HMS Networks is the market-leading gateway family for serial to fieldbus and industrial Ethernet connectivity. Popular among device manufacturers, machine builders and system integrators all over the world, millions of devices and machines today rely on Communicators for network connectivity in a wide variety of industrial application areas. HMS is now announcing a new line of second-generation Communicators to be released during 2020. The first version for EtherNet/IP is now available and it will be followed by versions for Modbus TCP, PROFINET and PROFIBUS. The new Communicators are modern, high-performing gateways which incorporate all experience gained by HMS Networks in the interaction with customers about the original Anybus Communicator line over the last two decades. The two generations will co-exist according to a separate product life cycle plan.
Security, high performance and industrial reliability using the latest Anybus technology
All 2nd generation Communicators are powered by the award-winning Anybus NP40 industrial network processor used in all HMS' embedded solutions, which ensures that the Communicators will match demanding requirements in terms of performance, reliability, and security. Depending on use case, data cycle times are up to 10 times faster than with the 1st generation Communicators thanks to the new hardware and software. Users can also benefit from significantly increased data exchange support as up to 1 448 bytes can be transferred from the connected PLC to the gateway, as well as from the gateway to the PLC.
Furthermore, in order to meet current and future security challenges, all products are equipped with a security chip. A secure boot ensures that the firmware has not been tampered with.
The Communicators are packaged in a new attractive slim housing for straight-forward DIN-rail mounting. Carrying all relevant industrial certifications such as CE- and UL-marking, a temperature range of -25 to +70°C is supported to ensure that the Communicators stay operational in very demanding industrial conditions. 
Easy to configure and deploy
Before connecting the gateway to an uplink PLC, the user configures the Communicator to communicate with a subnet of one or more devices/machines. This is done by connecting to the Ethernet configuration port from a PC, after which the user can open any browser of choice to access the new graphical, responsive web-based 2nd gen Communicator user interface. Configurations are simply done using drag and drop and no additional software is needed.
Initially, the 2nd gen Communicator is primarily focusing on Modbus RTU communication to connected equipment. Up to 150 Modbus commands are supported which allows very complex configurations with multiple nodes. Final configurations can be stored and managed in a secure way for future use. When done, the gateway is ready to be included as a node in the PLC-system on the other side of the gateway.
The configuration port and its web interface also enable the user to monitor and diagnose network traffic. The user can immediately see the status of the industrial network connection, the serial connection, as well as individual serial node status. Communication logs are provided for further analysis by the user. 
Personalization for manufacturers of devices and machines - versatility for System Integrators
Anybus Communicator is fully prepared to be delivered together with a device or machine as a preconfigured, external communication module. Manufacturers interested in this option benefit from a wide range of services from HMS related to OEM personalization, brand-labeling, and gateway pre-configuration. System Integrators will primarily benefit from the above mentioned, versatile way of configuring the gateway to communicate with any device or machine in a factory – perfect for retrofitting situations when existing equipment needs to be connected to new industrial networks fast and seamlessly.
EtherNet/IP now released - Modbus TCP, PROFINET, and PROFIBUS to follow in 2020/2021
The first gateway version released now is Anybus Communicator for EtherNet/IP. Users benefit from a full pre-certified EtherNet/IP implementation by HMS, including support for Device Level Ring with Beacon Mode for media redundancy, network fault detection, and network fault resolution. With this, communication can continue to flow even after a cable break. During 2020 and 2021, HMS will release additional 2nd generation Communicators for the popular networks Modbus TCP, PROFINET, and PROFIBUS. More information to follow.
Learn more at www.anybus.com
About HMS Networks
HMS Networks is the leading independent supplier of solutions for industrial communication and the Industrial Internet of Things. HMS develops and manufactures products under the Anybus, Ewon, Intesis and Ixxat brands. Development and manufacturing take place at the headquarters in Halmstad, and in Ravensburg, Nivelles, Igualada, Wetzlar and Buchen. Local sales and support are handled by branch offices in Germany, USA, Japan, China, Singapore, Italy, France, Spain, the Netherlands, India, UK, Sweden, South Korea and UAE, as well as through a worldwide network of distributors and partners. HMS employs over 600 people and reported sales of SEK 1,519 million in 2019. HMS is listed on the NASDAQ OMX in Stockholm, category Mid Cap, Information Technology.
HMS Industrial Networks Inc
35 E. Wacker Dr, Suite 1700
Chicago , IL 60601
USA
Phone: +13128290601
Fax: +13126292869
us-sales@hms-networks.com
HMS Industrial Networks
Stationsgatan 37, Box 4126
300 04 Halmstad, Sweden
Press Contact:
Anders Hansson
Phone: +4635172914
ahn@hms.se
More from Communication Systems & Equipment