New Air Gun Combines Compressed Air Flow and Scraping Blade
Press Release Summary: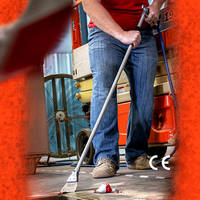 Exair Corporation's new Soft Grip Super Air Scraper™ guns include options for extensions from 2" to 72", as well as chip shields. The scrapers, which are electroless nickel plated, are CE compliant, and the air nozzles are designed for safety and minimization of air consumption. Air nozzles also meet OSHA requirements for noise exposure and dead end pressure. Heavy Duty Safety Air Guns are available for higher force, and VariBlast Safety Air Guns provide variable flow.
---
Original Press Release:
Air Gun with Scraping Ability Removes Stubborn Debris
EXAIR's new Soft Grip Super Air Scraper™ is a safety air gun designed to help remove the most stubborn debris found within industrial facilities. The patent pending design uses a scraping blade to aid the powerful compressed air flow removal of debris. This product is perfect for removal of caulk, sealant, adhesives, tape, paint, stickers, labels, grease, lubricant and difficult to sweep metal chips, flakes or discs.
The electroless nickel plated spring steel scraper is used in combination with EXAIR's 2" Flat Super Air Nozzle and installed upon the Soft Grip Safety Air Gun to provide power, durability, corrosion resistance and comfort. The CE compliant Soft Grip Super Air Scraper is available with extensions from 2" up to 72" long to aid in cleaning table tops, inside machines, reaching the floor or other remote surfaces. EXAIR's air nozzles meet OSHA standards for dead-end pressure and noise exposure. Chip shields are also available.
All of EXAIR's Safety Air Gun product lines use engineered air nozzles for high performance and safety – designed to maximize safety and minimize air consumption. The Heavy Duty and VariBlast Safety Air Guns provide higher force and variable flow, respectively. All EXAIR Safety Air Guns are available with extension pipes and Chip Shields. www.exair.com/93/sgsas.htm

For more information contact:             EXAIR Corporation
11510 Goldcoast Dr.
Cincinnati, OH  45249-1621
Phone: (800) 903-9247
Fax: (513) 671-3363
E-mail: techelp@exair.com
www.exair.com/93/sgsas.htm
More from Material Handling & Storage