New Air Disc Brake Pads Meet Federal Motor Vehicle Safety Standards 121 Dynamometer Specifications
Press Release Summary: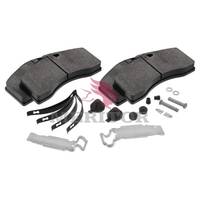 The Air Disc Brake Pads are composed of Level N material and contain less than 0.5 percent copper. They enable fleets to prevent multiple friction changes. The pads are compliant to 2025 regulations.
---
Original Press Release:
Meritor® Announces Remanufactured ADB22x Caliper and New Brake Pads for Aftermarket
TROY, Mich., Jan. 29, 2019 /PRNewswire/ -- Meritor, Inc. (NYSE: MTOR) today announced an expanded air disc brake aftermarket portfolio to include a new caliper and additional brake pad offerings.
The new remanufactured caliper for the ADB22x application enhances a portfolio that includes calipers for SN7 and SB7 applications, and the additional brake pads expand the overall value lineup coverage to 10 popular applications.
"These additions to our comprehensive aftermarket portfolio support the need among fleets with vehicles in the later stages of their lifecycle for high-value, all-makes replacement parts at an affordable price point from a proven Tier 1 supplier," said Doug Dole, general manager, Product Strategy for Meritor. "The products reinforce Meritor's reputation as a trusted aftermarket solutions provider that exceeds customer expectations and helps reduce total cost of ownership."
The ADB22x calipers now available are completely remanufactured to exact tolerances at Meritor's Plainfield, Indiana facility and fit multiple linehaul, trailer and severe-duty applications. Each caliper is torn down and cleaned, then remanufactured to deliver performance and service life without the costs associated with a new component. Parts are inspected and tested to make sure they can be qualified to exact specifications. Meritor's Plainfieldremanufacturing facility is certified by the Motor & Equipment Remanufacturers Association's Manufactured Again program.
The additional air disc brake pads, planned for availability in March, expand a value pad lineup that already delivers stopping power and performance for popular applications. Meritor friction material meets the Federal Motor Vehicle Safety Standards (FMVSS) 121 dynamometer specifications. Composed of Level N material, the pads contain less than 0.5 percent copper, making them compliant with the 2025 Regulations. This feature allows fleets to avoid multiple friction changes as manufacturers move from Level A material to B and then from Level B to N.
The brake pads and calipers, available at www.MeritorPartsXpress.com, are backed by Meritor's standard, nationwide one-year parts warranty. Meritor will showcase the caliper in booth No. 505 at the Heavy Duty Aftermarket Week 2019.
About Meritor
Meritor, Inc. is a leading global supplier of drivetrain, mobility, braking and aftermarket solutions for commercial vehicle and industrial markets. With more than a 100-year legacy of providing innovative products that offer superior performance, efficiency and reliability, the company serves commercial truck, trailer, off-highway, defense, specialty and aftermarket customers around the world. Meritor is based in Troy, Mich., United States, and is made up of approximately 8,600 diverse employees who apply their knowledge and skills in manufacturing facilities, engineering centers, joint ventures, distribution centers and global offices in 19 countries. Meritor common stock is traded on the New York Stock Exchange under the ticker symbol MTOR. For important information, visit the company's website at www.meritor.com.
CONTACT: Media Inquiries: Ryan Obert, (248) 435-1701, ryan.obert@meritor.com or Investor Inquiries: Carl Anderson, (248) 435-1588, carl.anderson@meritor.com
Web Site: http://www.meritor.com
More from Electronic Components & Devices