New Additions to JUMBO Super Smooth Screen Products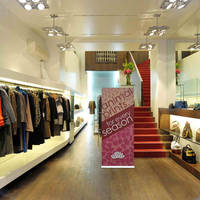 CARMEL, Indiana - Top Value Fabrics has expanded our line of JUMBO Single and Double Sided Super Smooth Screen Printing Media, specifically engineered for screen printers. This new collection of screen media provides a super smooth finish, exhibits superior lay flat quality, has a consistent dyne level and helps printers achieve exceptional prints.

Our JUMBO rolls are now perfect for all Indoor or Outdoor applications for single and double sided print projects. A versatile choice for an endless variety of projects, this media is available in standard stock widths, as well as custom widths for contracted repeat work.

The super smooth finish, along with the convenience of incredible stock levels, makes this diversified collection of JUMBO screen printing rolls an unbeatable choice for high-end retail display applications.

About Top Value Fabrics

Top Value Fabrics has a 38-year history of success in the textile industry and is a leading supplier of Print Media, Industrial Textiles and Recreational Fabrics. The company has a nationwide network of offices, distribution centers and shipping locations with expertise in providing world-class solutions and service for a wide variety of industries. To learn more, visit TopValueFabrics.com.


More from Architectural & Civil Engineering Products