New Adaptive Milling Process Improves Efficiency and Eliminates Human Error
Press Release Summary: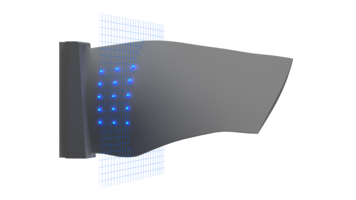 Adaptive blade milling measures workpiece in the machine and TURBOSOFT CAM software generates and optimizes the tool path
Can be integrated with a range of flexible manufacturing systems (FMS)
MQL process places a small amount of lubricant where it is needed through the spindle on the cutting tool to eliminate loss of efficiency
---
Original Press Release:
Liechti Engineering Improves Accuracy and Efficiency with Automated Adaptive Milling Technology and Minimal-quantity Lubrication Process
Lincolnshire, Ill., September 13, 2019 – To help aerospace manufacturers keep pace with the ever-increasing demand for flawless components, Liechti Engineering, a GF Machining Solutions brand and worldwide leader in 5-axis airfoil machining solutions for aerospace and power generation turbine manufacturing, has automated the adaptive milling process to improve efficiency and eliminate human error. At the same time, newly benchmarked customer data demonstrates the effectiveness of its unique minimal-quantity lubrication process.
Automated Adaptive Milling
While adaptive blade milling itself is not new, Liechti's approach to automation changes the way high-value aerospace components are manufactured. With automated adaptive blade milling, the workpiece is measured in the machine and the TURBOSOFT computer-aided manufacturing (CAM) software generates and optimizes the tool path, which, by eliminating human error, optimizes productivity and ensures the highest quality result.
Adding to its efficiency and reflective of a significant step forward for blade manufacturers, Liechti Engineering's automated adaptive blade milling solution can be fully integrated with a range of flexible manufacturing systems (FMS).
Minimal-quantity Lubrication Process (MQL)
Newly benchmarked data proves out the benefits of Liechti's unique MQL process, which places a small amount of lubricant exactly where it is needed through the spindle on the cutting tool to eliminate any loss of efficiency. In collaboration with Blaser Swisslube, an international developer and producer of high-quality metalworking fluids, and Switzerland-based machining specialist Walter AG, Liechti demonstrated that its MQL concept optimizes the milling of steel turbine blades and elevates machining beyond conventional standards.
The benchmarking study included several test scenarios in multiple environments. The Blaser Swisslube portion of the MQL study demonstrated both reduced flank wear and excellent surface finishes in the machining of X20 chrome steel blocks. Additional testing at Liechti Engineering in Langnau, Switzerland used a Liechti Turbomill 1400i to process difficult-to-machine X20. The use of the MQL process reduced cutting edge wear and tool life was extended. In fact, tests showed that polishing with MQL can reduce tool wear by up to five times compared to standard metalworking fluid.
Where alternative cooling methods fall short, MQL offers additional flexibility. With both metalworking fluid and MQL at their disposal, blade manufacturers are equipped with the ideal process for any application that comes their way.
MQL is available on all new Liechti machine models and can be retrofitted on legacy models currently in the field.
About GF Machining Solutions
GF Machining Solutions is the world's leading provider of machine tools, diverse technical solutions and services to manufacturers of precision molds and tooling and of tight-tolerance, precision-machined components. The key segments we serve include the aerospace, automotive, medical, energy, information and communications technology (ICT) and electronics industries. Our extensive portfolio ranges from Electrical Discharge Machining (EDM) solutions, three- and five-axis Milling machines and Spindles, Laser texturing machines, Additive Manufacturing and machines for Laser micromachining to solutions for Tooling, Automation, Software and Digitalization—all backed by unrivaled Customer Services and support. GF Machining Solutions is a globally acting Division of the Georg Fischer Group (Switzerland) and maintains a presence at 50 locations worldwide. Its 3,394 employees generated sales of CHF 1,066 million in 2018. More information can be found at www.gfms.com.
Media Contacts:
Heather Natal Marketing Manager GF Machining Solutions LLC 847.955.7177 | heather.natal@georgfischer.com
Chuck Bates Vice President dgs Marketing Engineers® 317.813.2230 | bates@dgsmarketing.com
More from Material Processing