New Absorption Chillers from Johnson Controls are Energy Efficient
Press Release Summary: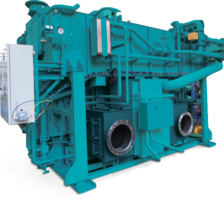 Johnson Controls' new absorption chillers run on water, a natural refrigerant. They are driven by waste or other low-cost heat sources. They feature a two-step evaporator-absorber and parallel flow design which has a lower salt concentration and requires less energy input.
---
Original Press Release:
Johnson Controls introducing diverse portfolio of YORK® Absorption Chillers and Heat Pumps at 2019 AHR Expo
Energy-saving products driven by waste heat using water as the refrigerant
MILWAUKEE – (January 14, 2019) – As part of its commitment to global sustainability, Johnson Controls will showcase the YORK® absorption offering at the 2019 AHR Expo (Booth #B1617), January 14-16 at the Georgia World Congress Center in Atlanta. After successful deployment in Europe and Asian-Pacific countries, YORK® is launching its absorption chillers and heat pumps in North America, expanding their portfolio of environmentally friendly heating and cooling solutions. These products use only a natural refrigerant (water) and are driven by waste or other low-cost heat sources.
"Energy efficiency and sustainability are core elements of our vision and values," said Clay Nesler, vice president, global sustainability and regulatory affairs, Johnson Controls. "The YORK® absorption chillers and heat pumps provide energy savings by using water as the refrigerant that yields zero ozone depletion and zero global warming potential. These units can use a variety of waste heat sources, increasing cooling and heating systems efficiency while reducing operating costs."
The YORK® absorption portfolio uses an innovative two-step evaporator-absorber / parallel flow design enabling a lower salt concentration, requiring less energy input. This results in increased reliability and energy efficiency compared to conventional designs.
"With electricity costs continuing to rise and lower cost natural gas more readily available, there is a renewed interest in combined heat and power systems." said Ian McGavisk, vice president and general manager, Global Chiller Products, Johnson Controls "Our absorption portfolio is optimized to integrate with combined heat and power (CHP) systems, and comfort and industrial process cooling in a clean and resilient way.  The success of these units is backed by more than 50 years of innovation and experience in absorption technology."
YORK® absorption chillers are supported by an extensive service and parts network, with more than 100 locations throughout the U.S.
For more information on YORK® absorption chillers and heat pumps, visit http://www.york.com/absorption-chillers.
About Johnson Controls
Johnson Controls is a global diversified technology and multi-industrial leader serving a wide range of customers in more than 150 countries. Our 120,000 employees create intelligent buildings, efficient energy solutions, integrated infrastructure and next generation transportation systems that work seamlessly together to deliver on the promise of smart cities and communities. Our commitment to sustainability dates back to our roots in 1885, with the invention of the first electric room thermostat. We are committed to helping our customers win and creating greater value for all of our stakeholders through strategic focus on our buildings and energy growth platforms. For additional information, please visit www.johnsoncontrols.com or follow us @johnsoncontrols on Twitter.
About Johnson Controls Building Technologies & Solutions
Johnson Controls Building Technologies & Solutions is making the world safer, smarter and more sustainable – one building at a time. Our technology portfolio integrates every aspect of a building – whether security systems, energy management, fire protection or HVACR – to ensure that we exceed customer expectations at all times. We operate in more than 150 countries through our unmatched network of branches and distribution channels, helping building owners, operators, engineers and contractors enhance the full lifecycle of any facility. Our arsenal of brands includes some of the most trusted names in the industry, such as Tyco®, YORK®, Metasys®, Ruskin®, Titus®, Frick®, PENN®, Sabroe®, Simplex® and Grinnell®. For more information, visit www.johnsoncontrols.com or follow @JCI_Buildings on Twitter.
# # #
More from Computer Hardware & Peripherals