New 5/6-Axis Machining Centre for Cutting Titanium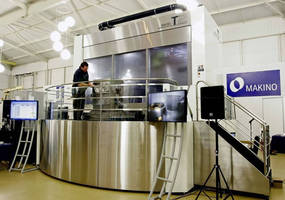 Makino T2 launched in Europe on 7th July 2011 at NCMT's Coventry technical centre

New aircraft have to fulfil ever-higher standards of efficiency to reduce emission levels, so increasing use is being made of titanium to take advantage of its lightness and strength. Fifteen per cent of the extra-wide-body version of the Airbus A350 by weight will be titanium, compared with five per cent of the A300 and nine per cent of the A380. Titanium is used widely in all three variants of the F-35 Lightening II (Joint Strike Fighter) and Lockheed Martin has identified its machining as a significant cost driver.

With this growth potential in mind, and in the light of an increasing number of applications for titanium emerging in other sectors such as F1, marine and petrochemical, Japanese machine tool builder, Makino, has introduced a new, 5/6-axis, horizontal machining centre specifically for manufacturing components efficiently from titanium and its alloys.

Designated Makino T2, the machine is sold in Britain and Ireland through sole agent, NCMT. The company hosted the European launch of the machining centre at its Middlemarch technical centre, near Coventry, on 7th July 2011. Representatives from manufacturers throughout the UK and Europe, including some of the foremost aerospace companies, witnessed the awesome cutting power of the machine.

It is able to hog up to 500 cm3 of Ti-6Al-4V per minute and will be capable of much higher metal removal rates when cutting tool technology catches up. Even so, current metalcutting performance is five times faster than the industry average. Despite having such impressive roughing performance, the machine is also capable of 5-axis simultaneous finishing to very high precision.

The T2, which has a 2,000 mm x 2,000 mm x 1,800 mm working envelope and a compact, 7 m x 9.8 m footprint, incorporates a significant technological advance in that it has three rotary CNC axes. The ±110-degree A-axis and 360-degree C-axis are on the spindle head, while the B-axis table also provides 360 degrees of continuous movement. Only two of the three rotary axes may be interpolated simultaneously with the linear axes.

A customer is able to choose A/C mode and position the B-axis for machining airframe parts, for example. Alternatively, it can select A/B for efficiently machining engine casings and other circular components. In either case, the sixth CNC axis can be repeatedly repositioned during a machining cycle. Benefits of being able to choose between the 5-axis modes to suit the job include reduced cycle times and better surface finish.

Problems when cutting titanium

Titanium has high strength-to-weight ratio, even at high temperatures, and has high corrosion resistance compared with other alloys. It is notoriously difficult to machine, not least because it has a low modulus of elasticity and is easily deformed during metalcutting. Since titanium is much springier than steel, it causes chattering when milling as well as problems when drilling and tapping.

Perhaps the biggest problem when machining titanium, however, arises from its low thermal conductivity, which makes it difficult to remove heat from the point of cutting, raising the temperature and contributing to a chemical interaction with the cutting tool. The high shearing angle formed ahead of the cutting edge generates a large bearing load on the tool face. In addition, titanium tends to work-harden during machining, making it even more difficult to cut.

Overall, it means that machining titanium alloys takes longer than other, more common aircraft metals and tools are worn out faster, resulting in high machining costs - exactly what aircraft manufacturers do not want. Excessive vibration and temperature are the main enemies.

T2 provides the solutions

From as far back as 1978, Makino has had extensive experience of prismatically machining these difficult materials which it harnessed when developing the T2 as a fast, efficient titanium cutting machine capable of maintaining good surface quality and long tool life.

There are numerous requirements when designing such a machine, the principal ones being: high feed forces and a rigid structure to counter those forces; good damping to resist vibration; a dynamically stiff, high-torque spindle; and high-volume coolant delivery for efficient cooling at the point of cutting and rapid evacuation of swarf. Makino was quick to take up the challenge of delivering a commercially viable solution, which includes automatic pallet change and integrated pallet transfer and storage options.

Mr Inoue, general manager of R&D at Makino in Japan, claimed in a presentation during the European launch that T-Series machines, which includes the larger T2.5 and T4 models, result in a nine-fold increase in tool life when cutting titanium compared with typical gantry-type machining centres. In addition, the technology allows four times faster surface speeds to be used.

The T2's HSK-A125, integral-drive spindle is Makino's most powerful to date, providing 1,000 Nm of continuous torque (1,500 Nm peak) up to 1,000 rpm, 150 kW of power and a tool clamping force of 9.8 tonnes, all values significantly higher than for previous integral-spindle motors. The 4,000 rpm (optionally 8,000 rpm) spindle is of compact, 2-axis design and is supported by a generously sized (150 mm diameter) roller bearing at the front to ensure high rigidity.

Absence of gears helps to minimise vibration as well as reduce energy loss, making the machine less expensive to run. Direct drive from the induction motor is more compact than if a gear train were to be used and offers twice the moment of inertia, smoothing entry of the cutter into the material and its subsequent exit.

The A-axis is driven through dual helical gears from both sides rather than just one, allowing a continuous cutting force of up to 20 kN, so no longer is this rotary axis the weak link in the 5-axis chain.

Active damping

The T2 has a very rigid structure to minimise cutting vibration under even the toughest cutting conditions. Workpieces up to five tonnes are supported by the 1 m x 1.25 m pallet, which travels at up to 16 m/min on four, integrally cast and quenched box slideways in the Z-axis. The four slideways present a large surface area that increases the ability of the structure to dampen vibrations.

To counteract the higher than normal frictional forces that result when a pallet moves over four slideways, Makino has developed a pneumatic, active damping system. It balances frictional forces with the cutting force to suppress vibrations, allowing the machine to perform deeper cuts, achieve higher metal removal rates and reduce tool wear. An air micrometer connected to a servo valve continouously monitors the load on the sliding surfaces in order to maintain constant frictional force during cutting, irrespective of workpiece weight or cutting forces.

Coolant control

A high-pressure, high-flow coolant system delivers 200 l/min of water-soluble coolant at high pressure (70 bar) through the spindle to the cutting zone. Porcupine cutters commonly used to rough titanium have up to 35 coolant holes, so a large coolant volume is needed to ensure a reasonable flow through each.

An additional 200 l/min of coolant is delivered via an overhead shower plus a further 200 l/min through nozzles around the spindle. The high coolant volumes and pressures ensure the all-important temperature reduction at the point of cutting, as well as efficient chip evacuation, underpinning accurate machining of large titanium parts over long periods.

Accuracy is further promoted by pumping fluid around the column to stabilise heat distribution and avoid the common problem of temperature differential around the structure. The linear and rotary axes are compensation mapped, giving volumetric accuracy of five microns throughout the entire machining volume under controlled machining conditions.

Process protection technology

Makino's process protection technology is in use on the T2 to safeguard the machining centre, component and tool, thereby avoiding damage as well as unscheduled stoppages in production.

The spindle head is monitored for vibration and force in three planes. Setting thresholds allows a warning to be given if values reach, say 6g, and automatic machine stoppage if 8g is exceeded. Similarly, cutting force is plotted in X,Y and Z and the feed rate automatically adjusted to keep it within predefined limits.

To prevent collisions, Vericut simulation of the entire machining area including spindle, tool, component, fixture and table, is handled differently from normal. Instead of being run off-line within the CAD/CAM environment, the relevant data is downloaded with the NC program to the T2 control, where simulation is carried out on the post-processed program, which is more faithful to the path that the tool will take. Moreover, the virtual cycle runs almost in real time, lagging the actual cutting paths by 100 milliseconds - just enough time to stop the machine should a collision situation be predicted.

Analysis of stoppage data, giving machine status and utilisation throughout a shift and reasons for periods of downtime, also form part of the Makino process protection package.

Four photographs herewith:

1. The new Makino T2 5/6-axis machining centre for cutting titanium, pictured during its European launch at NCMT's Coventry technical centre on 7th July 2011.

2. Visitors listening to one of the T2 demonstrations.

3. T2 machining demo (i): Back right: five consecutive pockets were machined in Ti64 in under 13 minutes per pocket using an 80 mm diameter, 5-flute porcupine cutter, which removed 255 cm3 of metal per minute. (ii) Foreground: Ti64 twisted channel roughed (back) and finished (front) in 7 minutes 4 seconds using an 80 mm diameter mill; 228 cm3/min of metal was removed during 5-axis roughing.

4. T2 machining demo (ii): Ti64 support strut roughed and finished from solid in 13.5 hours using a high feed cutter whose average life exceeded 250 minutes, despite the use of long-reach toolholders.

On behalf of:

NCMT Limited, Ferry Works, Summer Road

Thames Ditton, Surrey KT7 0QJ

Tel: 020 8398 4277. Fax: 020 8398 3631.

Web: www.ncmt.co.uk

E-mail: daveburley@ncmt.co.uk

Contact: Dave Burley, Managing Director.

More from Controls & Controllers