New 34988 - Premium A/C RRR Machine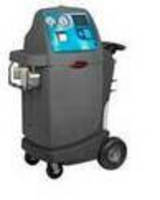 34988 Ahead of the Game . . .

Fully compliant with SAE J2788 standards!

Fully automatic function lets you recover, vacuum, leak test, charge, and then walk away.

Combines simple operation with superior accuracy. The 34988 recovers, recycles, evacuates, leak tests, and recharges R-134a quickly and accurately. Automatic operation means less attention is needed!

Features:

o Fully-Automatic Function: Program to recover, vacuum, leak test, and charge without operating panel valves.

o Automatic Dye Inject: Gives the user the ability to use the machine to inject UV dye into a vehicle's A/C system.

o Automatic Oil Measure & Inject: The machine will automatically determine how much lubrication oil needs to be injected back into the A/C system based on how much oil was taken out during recovery.

o A/C System Flush: Flushes a vehicle's A/C system with refrigerant, eliminating a residual oil or other liquid.

o Save & Print before and after service data: Allows the user to store before and after service information by vehicle, and print this information to provide to a customer.

o Indicator light and notification alarm: Notifies the user when service is complete, or if a problem has occurred.

o Oil Inject: Less than 1% cross-contamination.

o Refrigerant & Oil Database: For North American market vehicles 1994 - 2008.

o Vacuum Leak Test: Monitors level after evacuation; informs of possible leak.

o Automatic Air Purge: Eliminates damaging air without monitoring gauges or opening valves.

o Automatic Refrigerant Refill: Maintains a user-selectable amount of refrigerant in an internal vessel and signals when it's time to change supply tank; no monitoring required.

o Vacuum Feature: Defaults to 15 minutes, programmable up to 99 minutes. "Remaining time" is displayed.

o Display: Multilingual

o Refrigerant Charging: Select a charge mode from high-side, low-side, or both.

o Refrigerant Management System: Displays refrigerant use and monitors remaining filter life. Prompts appear when 1/3 of filter life remains.

More from Architectural & Civil Engineering Products