New 3-Point PCB Sockets Accommodate Pin Sizes Ranging from 0.80 to 1.90 mm
Press Release Summary: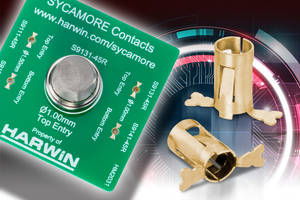 Harwin's 3-Point PCB Sockets are available in top-entry and bottom-entry configurations with current rating of 6A and contact resistance of 15 mΩ. Units come with sturdy construction that uses copper with gold plating and provide up to 500 mating cycles. Offered in tape-and-reel format, the sockets feature an operating temperature of -50°C to +125°C and are suitable for automated production processes.
---
Original Press Release:
Harwin Expands Breadth of Robust Surface Mount 3-Point PCB Socket Series
Portsmouth, UK, 13 June 2018 – High-reliability connector supplier Harwin has announced further additions to its Sycamore Contact product offering. While this series was initially capable of accommodating 1mm and 1.5mm diameter contact pins, it now covers pin sizes from 0.80 to 1.90mm.
There are a wide variety of scenarios where electronic devices/modules will require replacement over time (such as depleted gas sensors or worn-out energy harvesting transducers). In addition, initial exposure of these modules to soldering temperatures can introduce the risk of early failure due to heat damage. Both these risks show that direct soldering onto the PCB is clearly unadvisable. Removal of a failed or damaged module will prove difficult, and could result in scrappage of the whole board.
The Sycamore Contact series of surface mount PCB sockets allow odd-form devices/modules that are not suited to regularly-spaced socket strip arrangements to be attached without any future inconvenience, should removal be required at a later stage. Whereas other contact solutions of this kind only comprise 2 points of contact to the mating pin, making them vulnerable to exposure from vibrational forces, the patent pending design of the Sycamore Contact gives engineers access to 3 contact points. This markedly improves operational stability, as well as delivering stronger pin retention and heightened levels of signal integrity.
Available in both top-entry and bottom-entry configurations, these sockets have a current rating of 6A and a 15mΩ (maximum) contact resistance. Their sturdy construction, which uses beryllium copper with gold plating, means that they support 500 mating cycles and exhibit an operational temperature range spanning from -50°C to +125°C. As these components can be supplied in a tape-and-reel format, they are highly suited to automated production processes, with the surface mount placement feet also serving as the pickup areas for pick-and place machinery.
About Harwin
Harwin is renowned worldwide for producing high reliability interconnect solutions that can deal with the most exacting of application demands - attending to the defense, aerospace, space, industrial, oil/gas and motorsport sectors. Over the course of the last 65 years, the company has continued to set new benchmarks in terms of innovation, automation and service, through ongoing investment in advanced equipment and the training of its staff. Harwin's team of highly skilled engineers have been responsible for developing an impressive array of 'must not fail' connector products that outperform the competition. These include the Gecko (1.25mm pitch), Datamate (2mm pitch), Mix-Tek (combined signal, power and coax) and high temperature M300 (3mm pitch) product lines. In addition, the company offers easy-to-implement EMI/RFI shielding solutions, a comprehensive portfolio PCB hardware (spacers, links, bridges, terminals, test points, etc.) and a broad range of industry standard connectors. All these products are available with short lead times via its extensive sales and distribution network. Harwin's global reach enables it to respond rapidly to customer needs, with sales offices and manufacturing facilities in the UK, the USA, Germany, France and Singapore. For more information, visit: www.harwin.com
For more details contact:
Ben Green – Head of New Business, Marketing & Communications, Harwin
Tel: +44 2392 314 532
bgreen@harwin.co.uk
Agency contact:
Rachel Sandeman – Account Director, Publitek
Tel: +44 2038 136 425
rachel.sandeman@publitek.com
More from Explosives, Armaments, and Weaponry