Network Transmission Tester offers real-time data reporting.
Press Release Summary: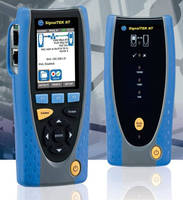 Compatible with copper and fiber cabling, SignalTEKTM NT delivers reports that prove speed and reliability of data cable and network installation. Performance reports can be produced upon job completion so that subsequent call backs can be charged. Also, ability to transfer deliverables from tester directly from work site ensures job completion can be confirmed immediately by customers. Real-time data transfer, using IDEAL AnyWARE™ mobile app, also ensures test results are not lost.
---
Original Press Release:

Reduce Costs and Improve Cash Flow with SignalTEK NT for Copper and Fiber Cable Testing



IDEAL Networks has launched SignalTEKTM NT, a network transmission tester which costs up to 30% less than comparable equipment while still offering high quality reporting that proves the speed and reliability of a data cable and network installation.  Uniquely, SignalTEK NT can be used with both copper and fiber cabling, reducing costs by removing the need to invest in more than one tester.



To further ensure that work can be completed productively and profitably, SignalTEK NT offers the functionality to produce performance reports at the end of a job, so that subsequent call backs can be charged for.  In addition, the ability to transfer deliverables from the tester directly from the work site ensures job completion can be confirmed straight away to customers, reducing delays in payment.  The ability to transfer data in real time using the free IDEAL AnyWARETM mobile app also ensures that test results are not lost, so no time or money is wasted on re-testing completed jobs. The app connects to the SignalTEK NT using Wi-Fi and transfers test reports to your mobile device. Once data is transferred, users can view the PDF reports and send them using their preferred file sharing method including email or file sharing app.



SignalTEK NT simulates actual network traffic to prove and document network and data cable performance to Gigabit Ethernet standards across various uses including VoIP, CCTV, Video, and web traffic.  This is in contrast to some cable testers which do not transmit real Ethernet frames so do not effectively simulate network traffic. All tests conducted with SignalTEK NT comply with the IEEE 802.3ab Gigabit standard and can be performed on both shielded and unshielded twisted pair cables including Cat 5e through to Cat 8.



SignalTEK NT also uses Time Domain Reflectometry (TDR) to locate common wiring faults such as open and short circuits. Using the SignalTEK NT helps to eliminate common causes of network downtime and slow transmission speeds.



The tester offers a number of other useful time-saving functions to verify device, network and internet connectivity including port speed and duplex status, Power over Ethernet (PoE) and PoE+ availability, port ID with LLDP and Cisco discovery protocol, and tone generation for cable tracing using a compatible amplifier probe. The SignalTEK NT also verifies the power level of an optical device to identify the source of a problem as cabling or network hardware, making testing quicker, easier and less costly.



Easy and intuitive to use, the SignalTEK NT requires no calibration and comes with replaceable RJ-45 contacts which can help to reduce the cost of ownership of the tester.  To further boost efficiency, when testing data cables or active networks, two handsets can automatically pair to allow tests to be initiated from either handset and then carried out by one person to save the time and cost of an additional technician.



"SignalTEK NT uniquely offers copper and fiber cable testing, network troubleshooting, PDF reporting and compatibility with the new IDEAL AnyWARE app, helping to reduce spend on multiple copper and fiber testers and improving productivity," says Tim Widdershoven, IDEAL Networks Global Marketing Manager.



Tim continues "With proof of performance becoming increasingly important to customers, installers and technicians can benefit from a tester that not only conducts a variety of tests accurately but also provides a selection of detailed reports in seconds – these can be shared with customers to demonstrate that the cabling or network is functioning as specified."



For more information or to see a video explaining the benefits of SignalTEK NT, visit https://www.idealnetworks.net/us/en/products/network-testing/network-transmission-tester-signaltek-nt.aspx



For more information on IDEAL Networks visit www.idealnetworks.net



About IDEAL Networks

IDEAL Networks offers easy to use data cable testers for cable installers and network testers to assist IT technicians with troubleshooting. The data cable tester range includes copper and fiber testers for cable verification, Ethernet transmission testing and cable certification that provide proof of performance. The unique network tester range helps to pinpoint and solve networking issues quickly. They decrease downtime by allowing field technicians to discover the root cause of network connectivity issues such as incorrect IP configuration, rogue network services, network bandwidth issues and PoE supply problems.



Issued on behalf of IDEAL Networks by:

MOLOKINI MARKETING LTD

Press/Advertising contact :

Nik Webb:  T: +44 (0) 1903 207408 | E: nik@molokini.co.uk | W:  www.molokini.co.uk

More from Fluid & Gas Flow Equipment